Popular Food Festival Returning to Arsenal Yards, Ticket Sales to Benefit Watertown Community Foundation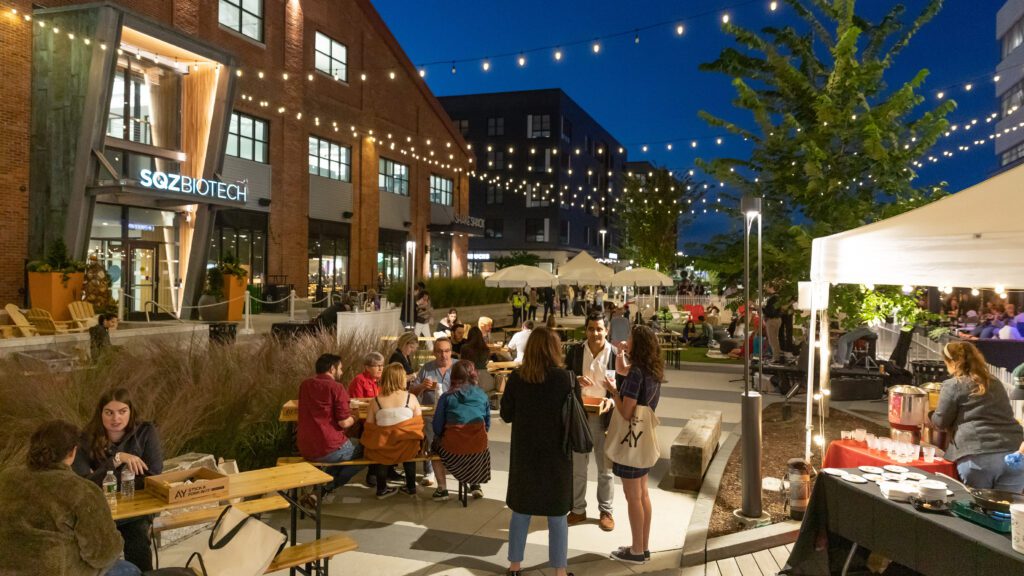 The following press release was provided by Arsenal Yards
WATERTOWN – In the mood for food? Arsenal Yards, Watertown's most vibrant neighborhood from Boylston Properties and Wilder, is thrilled to announce the return of the Stick A Fork In It! Food Festival. Inviting the community to round up their foodie friends and family for an around–the–world–style soirée, the festival will feature a deliciously diverse lineup of restaurants, retailers, and venues on Wednesday, September 20th from 4:30–7:30PM. Participating venues include Ben & Jerry's, Buttermilk & Bourbon, City Works, Condesa Restaurante Mexicano & Tequila Bar, Taffer's Tavern, Tori Jiro, Frank Pepe, Pokeworks, Roche Bros., Shake Shack, Vitality Bowls, Starbucks, Gordon's Wine, The Majestic 7, and more.
Participants must register online in advance and check in to receive their punch card and goodie bag. Registration includes food samples from all participating venues, which will be set up at individual tables spread about the neighborhood, providing a great opportunity to stroll around and enjoy all of the neighborhood's community spaces.
In addition to feasting on delicious bites, guests will also enjoy special live performances by singer/songwriter Randy Vera, games and activities including caricatures, photo booth camper, and much more. Those 21+ are invited to catch up with friends over a fresh brew at the Mighty Squirrel Biergarten or grab a class of wine (or cocktail) on the Taffer's Tavern patio. In addition, popular spots including James Joseph Salon, Bond Vet, and Arsenal Modern Dentistry will be on–site offering goodies, raffles, and exciting giveaways!
"After a hugely successful evening of eating, drinking, and celebrating our neighborhood's amazing restaurants and eateries last year, we are thrilled to bring back the most delicious day of the year at Arsenal Yards this September!" said Jessica Peterson, Marketing Director at Arsenal Yards. "From world–famous yakitori to the original New Haven–style 'za to everything tasty in between, we're proud of the vast and varied restaurants that call Arsenal Yards home. Grab your tickets early – this event sold out last year, and you won't want to miss out!"
A sampling of some of the bites at this year's event includes:
-Grilled Momo Yakitori from Tori Jiro
-Cheese & Pepperoni Slices from Frank Pepe
-Mini Vitality Bowl from Vitality Bowls
-Fresh Scallops & Edamame Salad from Roche Bros.
-Brisket Tacos from City Works
Check–in is required upon arrival in front of Marshalls at 122 Arsenal Yards Blvd. Children under 5 years old will receive free admission but will not have access to sampling and must always be accompanied by an adult. For those who are 21+, alcohol may only be purchased and consumed at the Mighty Squirrel Biergarten, Taffer's Tavern or at one of the many restaurants at Arsenal Yards. Alcohol is not permitted in the common areas.
Free parking for all Arsenal Yards events is available in the red and purple parking garage, along with the surface parking area near City Works. For more information about Arsenal Yards, visit www.arsenalyards.com/.
ABOUT ARSENAL YARDS
Along the Charles River, Greater Boston's next great neighborhood is thriving in the East End of Watertown. Arsenal Yards boasts curated shops, eateries, fitness, and entertainment venues including Buttermilk & Bourbon, Condesa Restaurante Mexicano, Kura Sushi, The Majestic 7, Shake Shack, City Works Eatery & Pour House, Gordon's Wine, Pure Barre, Roche Bros. Ulta and more. Spanning over one million square feet, Arsenal Yards offers 200,000 sq. ft. of state-of-the-art life science space, home to current biotech tenants SQZ Biotech, Kymera and Arkuda; 300 contemporary apartments at Blvd & Bond; and a 146-room Hampton Inn & Suites by Hilton. With a focus on building community, Arsenal Yards hosts seasonal event series for both residents and visitors, including outdoor musical performances and fitness classes, along with a "Picnic in the Park" series in the summer months and a "Fireside" fire pit activation in winter. Arsenal Yards is a co-development of Boylston Properties and Wilder. For more information visit www.arsenalyards.com/.
---
---
Recent Stories
Watertown -Originally from California, Karina Bergevin and her family now call Watertown home. In January of this year, Karina opened up her own business Owl Fitness Studio at 468 Main Street in Watertown. In September, Karina officially celebrated the grand opening of her new studio. She spoke with WCN about what Owl Fitness offers and…

---

WATERTOWN – In this week's Raiders report, the football team gets shutout at home, the Marauders get some payback against the Raiders in the eighth annual Soccer Night in Belmont, and the field hockey team simply can't be stopped. Recent Stories

---

The following press release was provided by the Watertown Free Public Library WATERTOWN – In the fall of 2021, Watertown Free Public Library staff began asking community members to go through their albums, scroll through their phones, and share three personal photographs that represent "you, your family, or your connection to Watertown." Each photograph was…

---
Tickets are now available online via Eventbrite for $12.00 each with all proceeds benefitting the Watertown Community Foundation, and must be purchased prior to the event. The Watertown Community Foundation is a public organization that works to build and sustain a vibrant, close–knit community in Watertown, now and for future generations. Arsenal Yards is pleased to partner with the Watertown Community Foundation for proceeds of this event to benefit food insecurities in the City of Watertown.