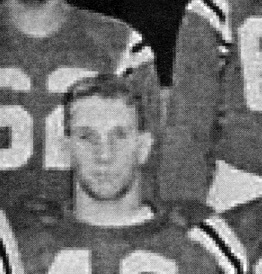 Sal Ciccarelli
'59 Community Contributor
Year Inducted 2006
Watertown is a sports town, of that there can be no doubt. When you drive down Main Street past the town line, you are greeted with a sign celebrating the many successful State Champion girl's field hockey teams.
If you enter the Watertown High Gym on a Friday night, you are likely to find a thousand of your friends and neighbors rooting the Raider boy's basketball team to victory.
There are people responsible for these examples of Watertown's civic pride – certainly, the players and coaches on the teams, as well as their parents and friends. Then there are community leaders who play a supportive role to Watertown sports each year. Sal Ciccarelli is one of those community leaders, and it is why he is being honored as a special inductee into the Watertown High School Athletic Hall of Fame with the Class of 2006.
"My involvement with the Watertown High School Athletic Hall of Fame has been a labor of love," Ciccarelli said. "The induction ceremony and dinner has been a cross-generational reunion that is eagerly anticipated and well attended each year. It provides an opportunity to reacquaint with high school friends and honor the achievements of friends and teammates."
"Sal has been with the Hall of Fame Board since it was formed two decades ago," said fellow Hall of Famer and Hall of Fame Board member Bob Kaprielian (Hall of Fame Class of 2001). "It was Sal who made sure that the Hall could award over $29,000 in scholarships over the past 15 years to the top Watertown boy and girl athletes, fundraising and recruiting in the community."
Ciccarelli's support for today's student-athletes is an expression of his desire to give back to his community.
"The Hall of Fame honor is for Sal's contributions to the Town of Watertown and the Hall of Fame itself, however, Sal was an outstanding Watertown High School running back himself with a reputation for being a shifty, hard hitting half back who played with exceptional intensity," said Bob Kaloosdian, Ciccarelli's friend and law partner for over 30 years.
Ciccarelli started at left halfback in his junior year at Watertown High, part of a solid one-two football backfield tandem with Joe Basile (HOF 2003) in the Fall of 1957 for Coach Vic Palladino. It was Ciccarelli's second year in the varsity lineup – as a sophomore, Ciccarelli started at defensive back.
"Sal was the only junior starter in our senior year. The coaching staff felt highly about him," said Frank Arricale, one of the stalwarts on the 1957 team. "Sal was only 150 or 160 pounds but he was very quick and had good vision."
Ciccarelli was named co-captain of the 1958 varsity with Peter Mancini, one of only five senior classmen on that team.
"At football practices, the younger players looked up to Sal. Sal had character, he was dedicated, strong willed, and an all-around good person," said Mancini, starting right tackle.
Ciccarelli's leadership abilities were evident off the football field as well. Ciccarelli was selected to be the Vice President of his sophomore class, then chosen to be Class President in his junior and senior years. Ciccarelli further developed those leadership skills as an undergraduate at Boston University and at Suffolk Law School.
Ciccarelli's support for Watertown sports and Watertown youth was shared by his late wife Norma (Maria) Ciccarelli. In 1964, Sal married Norma, a Watertown High classmate who worked as a Watertown playground instructor while pursuing her degree in education. That same year, Norma Ciccarelli was elevated to Watertown's Assistant Director of Recreation, supervising female sports.
Sports and Watertown were a bond that Sal and Norma shared until Norma's untimely death in February of this year from Lou Gehrig's Disease.
The Ciccarelli's raised their four children in Watertown – Peter, Kristin, David and Stephen. All of the Ciccarelli children were involved in local sports in the 1980s and early 1990s, whether it was little league baseball, school teams, or just playing pickup games on the playgrounds where Norma Ciccarelli encouraged them to enjoy the fresh air and exercise.
Sal Ciccarelli has served Watertown's citizens in several political capacities. He was first elected State Representative in January 1977, holding that position for the next ten years. In 1995, Ciccarelli won a seat on the Town Council and has served 10 years, eight as vice president.
Kaloosdian said that he continues to admire Ciccarelli for his role as a community leader, whether it be for Ciccarelli's role in promoting Watertown sports or special projects, like the Watertown Arsenal Reuse Committee, the East Junior High Reuse Committee, and chaired the Coolidge School Reuse Committee that has designated that site to be redeveloped into age restricted apartments.
"Sal is a popular figure in Watertown. He earned the respect of his fellow townspeople for his selfless interest in helping them with their problems," Kaloosdian said. "He is a man whose word you could take to the bank and a lawyer of integrity and character."
He is also the latest deserving member of the Watertown High Athletic Hall of Fame.