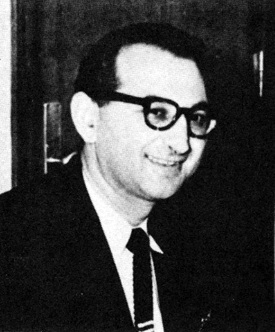 Nick Papas
'54-86 WHS Faculty
Year Inducted 1995
Upon entering Nick Papas' Marshall Street home, the visitor is immediately struck by the number and range of the trophies, awards, and recognitions that fill the place to bursting. Like a mini-Cooperstown, the house pays tribute to Nick's true loves: his family and Watertown athletics.
Indeed, the Papas family has an impressive record of athletic achievement, of coaching, of teaching the next generation the glories of sport. All four sons went through the Watertown public schools and excelled in football, basketball, and baseball.
But it all begins with Nick, Sr. He seems to have attended every Watertown athletic event for over forty years, from freshman baseball scrimmages to the Tech Tourney championships. His partisanship for the Raiders is famous; his energy for their endeavors remains unbounded. Generations of Watertown athletes need only hear the words "Mr. Nick" to think of loyalty, support, and an amazing generosity of time and spirit.
Nick is not only a fan but an athlete as well. Growing up in Boston in the 1930s and 1940s, he established a reputation at Mechanic Arts High School as a versatile sportsman, and upon graduation was offered a contract by the Chicago Cubs. Today, he reflects that it would have been nice to see if he had the ability to be a major leaguer. But it was wartime, and duty came first; Nick joined the Army in 1944 and spent the Second World War in a tank division.
Returning home, Nick attended Suffolk University and studied business administration and education, earning three varsity letters in baseball along the way. In 1950 he graduated. But the more important event of that year was his marriage in April to Dora Palladino of Watertown (sister of Hall of Famer Vic). In 1956 he moved to Watertown and the Papas dynasty was well under way. He had already started teaching at Watertown High School, first as a substitute, then in 1954 as a full-time teacher of business, bookkeeping, and financial management. It's a post he would hold until 1988, over thirty years later.
The rest of the Papas story is perhaps best illustrated by a simple list of Nick's achievements. He served as football trainer and year-round equipment manager for seventeen years, not to mention innumerable appearances as substitute coach and trainer in nearly every sport. The training room at Victory Field is dedicated in his honor. He was Gridiron Club treasurer and Director; faculty manager for athletics; Watertown recreation basketball coach (with eight town championships for his elementary school hoopsters!); President of the Phillips School PTA; a referee; an umpire; a starter; a teacher par excellence – named WHS' teacher of the year in 1986, and recipient of the annual yearbook dedication from the Class of 1970; and, of course, a father and husband.
This devotion to the Watertown community and its youth is matched only by their devotion to him. Nick has been a legend to legions of students, and it is hard to count the number of CPAs that have emerged from his classroom; he may be retired, but he still plays a part in their lives. Tom Tracy talks of Nick as an influence second only to his own father – it was in Nick's classroom that Watertown's Town Auditor first balanced a spreadsheet and on Nick's team at the Phillips School that the future Hall of Famer got his first coaching.
For some people, one such story would cap a career. But for Nick Papas, it is just one of a thousand pages of a life spent dedicated to others. And it is for that reason that the Hall is so proud to honor him this year. He has been a fixture – both as a fan and a father figure – in Watertown athletics for more than forty years. He has been a historian to the Hall; and now the Hall is happy to make him a part of its history.
Upon leaving the Papas home, the visitors is struck again – this time, by a modern day story of true love, of Nick's total devotion to his wife of almost forty-five years. Dora suffered a stroke in 1985 and lost her ability to speak. But their love needs no words. And if Nick were not so modest about his status as a role model, it might be this mutual adoration he would point to as the part of his life most worth emulating. He could never imagine any other way of doing things. And the conclusion is simple: Watertown is lucky to have been a part of Nick Papas' family.