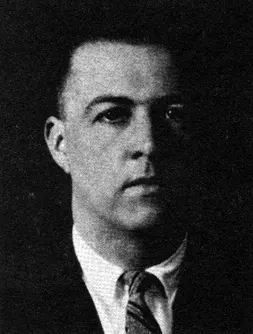 Joseph Hyde
'17 oldest living varsity letter holder
Year Inducted 1993
Joe Hyde has been a Red Sox fan since 1908 – for that reason alone he probably deserves to be honored, to celebrate his superhuman endurance! On the other hand, he has seen the Red Sox win five World Series. Too bad the last one was in 1918.
Joe grew up on the sandlots of Watertown, playing baseball in the informal leagues that blended and consolidated the town's various ethnic groups. Wanting to continue playing ball, Joe chose Watertown High, where he matriculated in 1913. He excelled, starting in center field for three seasons and captaining the team both his junior and senior years. He graduated in 1917 and now, in 1993, is thought to be the oldest living Watertown High varsity letterman.
After graduation, Joe played some semi-pro ball while working full-time at Stanley Steamer. He remained an ardent fan of Watertown sports, and a true believer in the democracy of athletics: throughout his life, he has championed the idea that sports help build and bond young lives. From the early 1930s, when Joe raised money for the ` `Sheridan Team," a baseball team in the local ` "Twilight League" that was managed by Henry Shanahan and Hall of Famer Ed Cousineau, Joe has been dedicated to making athletic opportunity accessible to all who wish to participate.
Joe has the unique distinction of having furthered the career of every member of this Hall of Fame. No one ever ran a fundraiser for Watertown sports without having Joe as an avid ally – though, in return, one had to listen to the details of the Red Sox' great 1912 season! In 1941 he was the alumni representative on a WHS committee named to choose the recipients of athletic scholarships; he still recalls Bill Boyce s great season the previous fall.
Joe started working for the town's welfare department in 1932, and remained there for over thirty years. Joe DiVico, Watertown's health director, worked with Joe for many years and remembers him as "a great man who gave his all to the people of Watertown. He worked harder on their behalf than anyone I ever knew. He was, well, a saint."
Part of his success must be attributed to his great love of Watertown and the people he knew so well whether from the ball field or the bleachers. He never missed a chance to advise his clients to have their kids stay in school and play sports. And he's remained active; he co-chaired the committee that set up the Head Start program in Watertown, and one wonders why no pre-school baseball league emerged. After an astounding 95 years in Watertown, he still reads the local papers from cover to cover.
Joe remembers Smokey Joe Wood vs. Walter Johnson, 1912. He cares about Watertown vs. Belmont, 1993. And in between, he's given his life to the people of this town. We've been watching, Joe, and for all of the above . . . thanks.
Upon graduation, John joined the Navy, where he served with distinction as an officer until 1959. He then went to Harvard Business School. He graduated in 1961 and became President of Lily Transportation Corporation, which he had founded three years earlier. Today, Lily has seven hundred employees and thirty-four hundred vehicles from Massachusetts to South Carolina, so he must have done something right along the way.
John has remained active in the sporting world – he was named a Director of the New England Sports Museum in 1989. He has been very much a player in the business world. And he has kept his roots in the community, through his work with the First Armenian Church and the Cystic Fibrosis Foundation.
All in all, we have to go back to John Giglio's original assessment: A great athlete, and a great person.