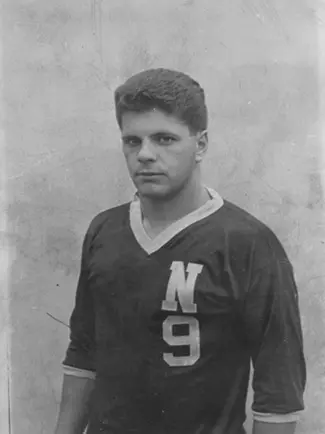 Arthur Venezia
'62 Soccer, Hockey
Year Inducted 2012
When one mentions Watertown Hockey, the name Arthur Venezia is sure to come up.
For decades now Venezia's contributions to the sport have helped countless amount of kids play and enjoy the game of ice hockey. So much so that a banner calling Venezia 'the Godfather of Watertown Youth Hockey" hangs above the Watertown rink.
He began coaching youth hockey in Watertown as early as the 1970's and today, the 1963 Watertown High graduate, is still going at it running a learning clinic.
"I just have always loved coaching and never want to get away from it," Venezia said. "I relate to kids well and I really try to make hockey a positive experience for everyone. No matter how much ice time someone has, you have to let everyone feel that you know they are around. All I ask is that they give me their best determination and effort. To me that's the makeup of an athlete."
In order to make someone try to love hockey, the teacher has to, at the very least, share the same passion as the student and that is easily the case with Venezia. Ever since he first played the game Venezia fell in love with the sport.
"I didn't start playing hockey until I first moved to Watertown when I was 11 years old," Venezia said. "I didn't even own a pair of skates when I first started playing. But I was hooked right away and then I started to skate when we played ice hockey every time Victory Field was flooded."
Just a couple of years after starting to play the game, Arthur Shannon, a fellow Watertown High Hall of Famer who coached hockey at the Middle School, recognized his talent and told him to keep playing. Before long Venezia was on the Raider hockey squad where he would have a successful high school hockey career which included winning the school's most outstanding player award his senior year. Venezia would also capture that honor in soccer and would soon (after one year at New Prep in Cambridge) become a multi-sport star at Norwich University.
"Truth be told I was a much better athlete in college than at high school," Venezia said. "And in college I was also on some very good teams."
At Norwich, Venezia was a key part of two Hall of Fame teams in soccer and in his senior year in hockey he had a fantastic run that ended rather disappointingly.
At one point in the season Venezia, who played on the first line as a right-winger, led his team to a number one ranking in Division Two. However, in the first round of the tournament the Cadets were eliminated by Merrimack, the school that recruited Venezia while he was a member of the Raiders.
"I know that team would be a Hall of Fame team if we won that game," Venezia said. "It was really disappointing because we beat Merrimack twice during the regular season."
Despite the disappointment of the tournament ending so suddenly, those who were there remember how valuable a player Venezia was. To this day the 1966-67 team is referred to as one of the best the Cadets have ever had and Venezia was a big reason why.
"The thing that sticks out about him is that he was a very tough aggressive player," his teammate at Norwich (starting goalie) and still good friend today Phil Spiros said. "He was very skilled but he was also the guy that did all the dirty work in the corners battling the opposition to get the puck. His two line mates were only finesse type players but Artie was the aggressor and would have to set them up for chances. I would say he was at least 50% responsible for the success of that line. He knew his role and to this day I haven't seen anyone play it better than he did."
Spiros has vivid memories of how tough Venezia was; how he would just bounce off of hard hits on the boards. He thinks, however, that he might have acquired that toughness from his mother.
"I'll never forget the game against AIC (American International College) and there was fight in the stands," Spiros said laughing. "I looked up and it was Arthur's mother going at it with some of the crowd. She always stuck up for her son. You didn't say a bad word about him when she was around. She was half Artie's size but I think she was even tougher than he was."
After Norwich University, Venezia went into the Army for a couple of years serving as high as a company commander in Germany before moving to New Haven Connecticut. While living there he noticed an add in the paper that Hillhouse High School was looking for a hockey coach. Venezia got the job and to say he did wonders with the program is a complete understatement.
"They were in the midst of a 63 game losing streak when I took over," Venezia said. "We ended up winning seven games that season. It was such a big deal to win that every time we won a game it was on the front page of the New Haven newspaper. I really loved coaching there and even today when I'm up in my attic I look at a picture of that team. It was a very special group of kids and a very special time in my life."
Venezia would eventually move back to Watertown and continue his love for coaching hockey. Throughout his life between raising a family and with his full-time jobs at places like Proctor and Gamble, Venice and Associates Sales Company, and his current Real Estate company on 144 Main Street, Venezia always found time to help kids experience the joys of being part of a hockey team.
Throughout his journey he would be an assistant under Dick Umile's successful run of teams at Watertown High in the 80's, coach youth hockey in both the 70's and 90's, and take over as head coach of the Raiders for five years in the last decade, while also continuing to coach youth hockey.
In his final year as head coach of the Raiders in 2005, Venezia surprised a lot of people by getting his team to the Division One state tournament which was just a few years removed from the day he was hired to "rebuild" the program.
"Just a great coach," 2005 Watertown High graduate Dan Chaison recalled of his playing days with Venezia as the head mentor. "With him as head coach we went from winning a few against not so good teams to beating very good teams in the Middlesex League. He not only knew a lot about the game but he cared about each and every person. If we needed anything he was always there. Everyone on our team loved him. He is a really good guy who taught us how to be good teammates. I was honored to be coached by him."
In February 2010 at the Raiders last home game of the season Venezia received a "Lifetime Achievement Award" for his dedication and service to Watertown Hockey. While being presented the award, Venezia was referred to as an icon for all he has done for Watertown and that is not strictly limited to hockey.
Venezia was also the driving force to get the fitness center built at the high school while also helping initiate "Fight Night" which is the single largest athletic fundraiser in Watertown.
Now Venezia, who is part of a three-generation family to play Watertown hockey, will forever be immortalized as a Raider Hall of Famer.
"I am really humbled by it," Venezia, who now has 15 grandchildren (most of them play hockey) said. "I really didn't expect it. I am really taken back to be part of such a great group of people at such a great place."