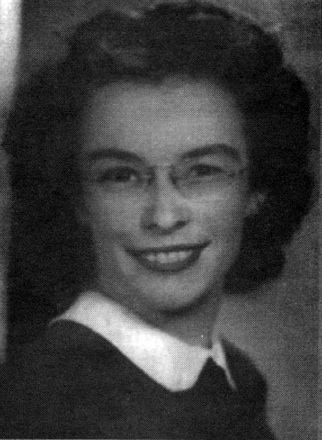 Anne Crimmins
Special Community Contributor
Year Inducted 2003
Town Manager Mike Driscoll may have put it best – he's never seen Anne without a smile on her face and a pleasant word on her lips. Anne has presided over the Watertown Recreation Department – taking upbeat charge of such directors as Larry Fortier, Phil Costello, Dick Camarano, and Tom Sullivan – since the Eisenhower administration's closing days. That's more than four decades of Anne's good-natured graciousness filling Town Hall – with luck, enough for a reserve supply to tide the place over in her absence. She will be missed very much.
Anne was born in Somerville and in 1942 married Dan Crimmins who was home on a three-day pass from the service and who shortly afterwards was sent overseas. Little did she know that the picture of her which he carried across the battlefields of Europe – reproduced above – would travel to England, to France on D-Day, and to Germany.
The Crimmins family moved to Watertown in 1952, and after working at Northeast Federal Bank for a time Anne started with the Town of Watertown in late 1960 as a junior clerk in the Recreation Department. Since then she's done everything the department does, touching many lives along the way. She worked for many years as secretary/treasurer of Little League and Babe Ruth and worked Pop Warner games; she attended and took minutes of more Recreation Department and Planning Board meetings than anyone seeking to retain her sanity should be exposed to. Above all, perhaps, she always did her job cheerfully and with good humor, befriending all who came in contact with her. "I have come to know so many nice people over the years," she says now. "I will miss them." The feeling, Anne, is very much mutual. The Hall wishes you the very best of fortune for many years to come.