Get a Massage in Watertown to Aid Earthquake Relief in Turkey & Syria
WATERTOWN – An earthquake devastated the countries of Syria and Turkey in February, and now a Watertown-based organization is hoping to aid relief efforts.

The Watertown Refugee Support Group will be sponsoring "Massage Aid for Turkey & Syria" on Saturday, April 29th from 1-4pm at the First Parish Church at 35 Church Street in Watertown. All proceeds will go to Doctors Without Borders earmarked for relief work for Turkey & Syria.

Attendees will have their choice of a 15 minute chair, sports table massage or a Reiki treatment. Reiki is a Japanese Energy Healing Technique, Reiki and Chair Massage are beneficial for everyone, and Sports Table Massages are helpful for athletes and those who are physically active.

The cost of a massage is $20 for any 15 minute session and can be paid in cash or by check made out to Doctors Without Borders.

Walk-ins are welcome, however organizers are asking that attendees make an appointment to make the process run more smoothly. Email dcjclmt@gmail.com to book your appointment.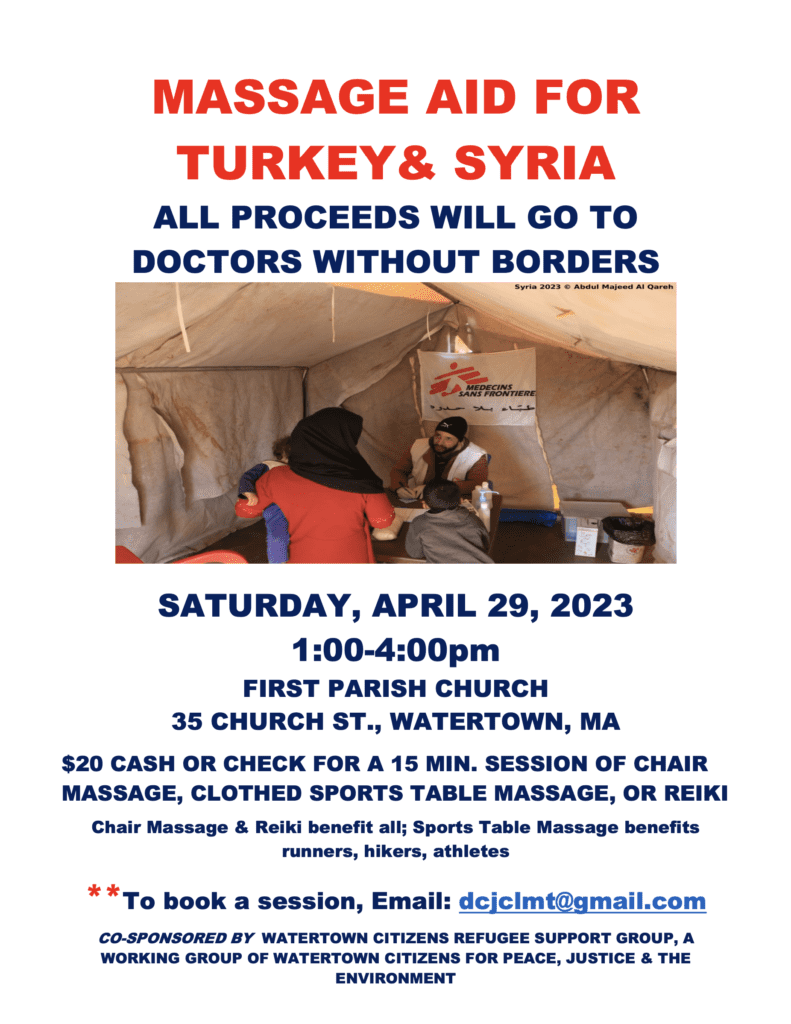 ---
Recent Stories
The following press release was provided by the Armenian Museum of America Watertown – The Armenian Museum of America (AMofA) recently announced the opening of its next contemporary art exhibition, "Ara Oshagan: Disrupted, Borders." The show follows the AMofA's blockbuster exhibit, "On the Edge: Los Angeles Art 1970s-1990s from the Joan and Jack Quinn Family Collection,"…

---

The following press release was provided by the Watertown Community Foundation Watertown – The Watertown Community Foundation (WCF) has awarded $729,229 to three local non-profits serving low-income populations in Watertown to meet ongoing basic needs in the aftermath of the COVID-19 pandemic. Thanks to funding from the Massachusetts Executive Office of Housing and Economic Development…

---

Watertown – The Watertown Arts & Culture Committee's inaugural Community Sculpture Walk is now officially on display. On Thursday, May 18th, the City of Watertown hosted a grand opening celebration of the exhibit at the Community Path behind Saltonstall Park. Each of the four artists who contributed a sculpture to the display spoke with WCN…

---