Sign Up For WCA-TV's Community Production Day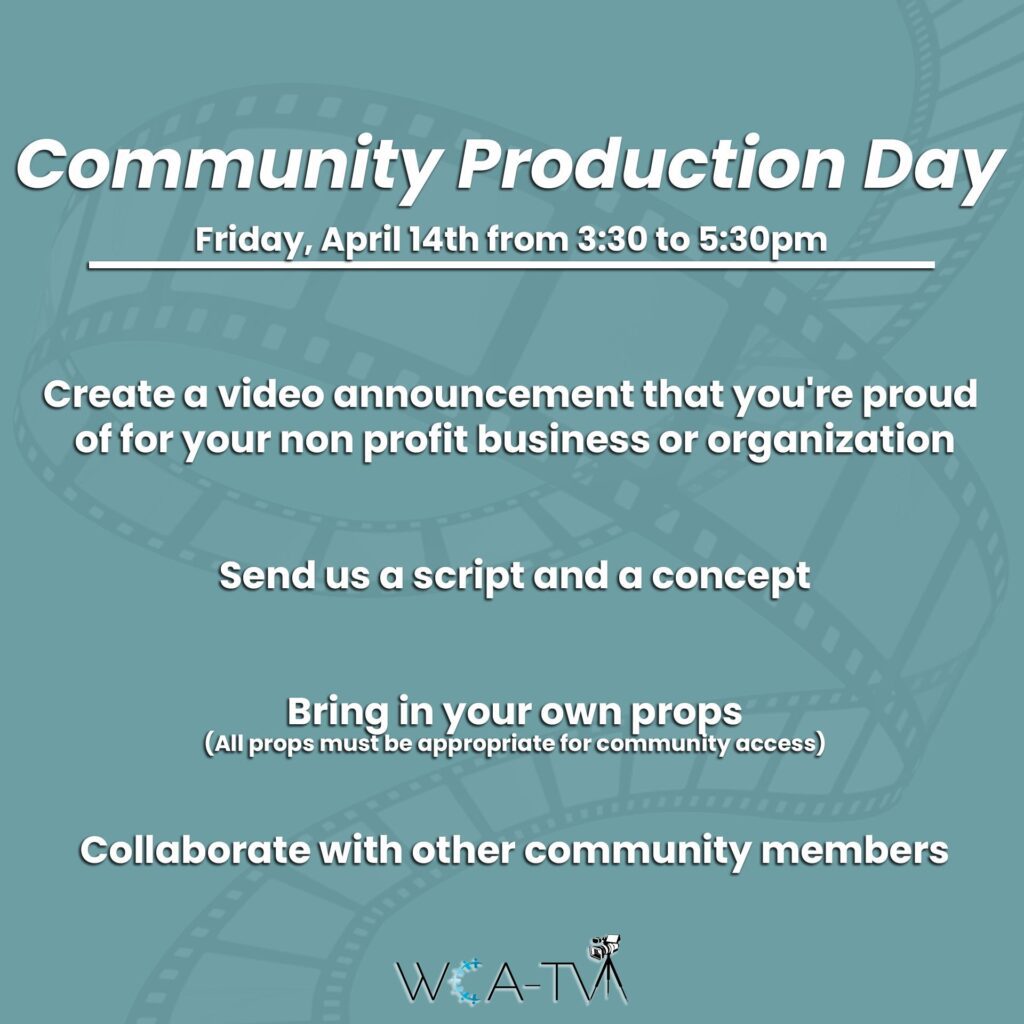 WATERTOWN – WCA-TV is hosting another Community Production Day on Friday, April 14th from 3:30 p.m. – 5:30 p.m. for all non-profit organizations in Watertown!
As always, the staff here at WCA-TV will work with you to produce a video announcement free of charge but this time you will also get the chance to collaborate with other community members in the studio! All videos can be up to 90 seconds in length and will be shown across all WCA-TV channels. All we ask is that you come in prepared, and ready with an idea!
Content produced on Community Production Day will also be uploaded to our video on demand service so you can share it on your organization's social media, website, and online outreach efforts!
You can see examples of past PSA's and Video Announcements on our website: http://vodwcatv.org/CablecastPublicSite/gallery/166?channel=1
If you are interested in participating, please sign up for a time slot here →
https://forms.gle/GA5ZrAZZ5dc4DhbQ8
If you can't make it out to WCA-TV this time around, don't worry! We will be hosting many more Community Production days in the future. Keep an eye out for announcements on our Facebook and Instagram pages or sign up for our Newsletter (https://wcatv.org/join/) to find out when the next ones will be!
We hope to see you there!
About WCA-TV:
Since 2005, Watertown Cable Access Corp (WCA-TV) has been Watertown's Public, Education, & Government Access (PEG) station. Our mission is to provide coverage of local events, meetings, and news, as well as access to our equipment and facility to engage our community and amplify their voices.
Our Public channel consists of community events, news, and locally produced programming. On our Education channel, you will find school events, sports, library presentations and WHS student produced programming. Our Government channel provides all your gavel to gavel coverage of local municipal meetings, including City Council, School Committee, Zoning Board, and more. WCA-TV also streams online 24/7, and all of our videos can be accessed on-demand anytime on our website.
---
Recent Stories
The following press release was provided by the Armenian Museum of America Watertown – The Armenian Museum of America (AMofA) recently announced the opening of its next contemporary art exhibition, "Ara Oshagan: Disrupted, Borders." The show follows the AMofA's blockbuster exhibit, "On the Edge: Los Angeles Art 1970s-1990s from the Joan and Jack Quinn Family Collection,"…

---

The following press release was provided by the Watertown Community Foundation Watertown – The Watertown Community Foundation (WCF) has awarded $729,229 to three local non-profits serving low-income populations in Watertown to meet ongoing basic needs in the aftermath of the COVID-19 pandemic. Thanks to funding from the Massachusetts Executive Office of Housing and Economic Development…

---

Watertown – The Watertown Arts & Culture Committee's inaugural Community Sculpture Walk is now officially on display. On Thursday, May 18th, the City of Watertown hosted a grand opening celebration of the exhibit at the Community Path behind Saltonstall Park. Each of the four artists who contributed a sculpture to the display spoke with WCN…

---