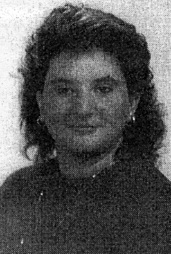 About a dozen years ago, someone driving down Orchard Street in the early hours of the morning might well have seen some thing rather striking on the nearby playing fields. A solitary figure, spinning, spinning – then an eight-pound ball of metal, flying, flying, thudding into the dewy grass forty feet away. And then the same sight again, over and over again.
That dawn pilgrim to Victory Field was Zoey Zarkadas, who lived by the motto "refuse to lose" long before it became a huckster's paycheck. Over the course of her track career at Watertown High, she put in a fair claim to ownership of the phrase: over the course of her junior and senior seasons, she was, in fact, undefeated in the Middlesex League in both indoor and outdoor competition. That adds up to forty wins, no losses. As teammate Rachel Kaprielian (now Watertown's state representative) puts it, "it always gave the squad a lift to know that we had first place points on the board before the meet even started."
Zoey's parents instilled in her a solid work ethic. Immigrants from Greece, they have owned a restaurant in Quincy for over two decades and taught her the value of consistent effort. In honor of the first meet they were able to attend, she set school records in both the discus and shot put at a dual meet against Wakefield! But from an early age she had proved to have great physical talent wedded to that will to work. In elementary school, she played baseball, basketball, and volleyball. And when she was introduced to the field events of the track world, a champion was born. Her first throw of a shot-put – without any technique hit the tape at twenty-seven feet. Sophomore season, she placed third in the league meet and was named to the Middlesex League All-Star team. She won the Red Auerbach Invitational Meet, setting the shot-put record for that event. And she capped the indoor season by winning the state championship in Class C. In the spring, she did it all again.
Indeed, she won so many meets over the course of the next two years that their rendering grows quickly monotonous. Besides being undefeated in league play, she won the league meet – both indoor and outdoor – twice. She was a first team all-star, team captain, the WHS most valuable player in girls' winter sports, holder of a school record that just kept growing (to forty feet, nine inches, by the time of her graduation.) She branched out to the discus, to the javelin, setting a WHS record in the first event (over 105 feet) and taking second place in the 1986 State Class C relays in the latter. She won the Bay State Games shot-put event that year too, and followed it up in the fall with wins in the State Coaches' All-Star Meet and the State Class B meet. She was second in the All-State meet, third in New England, and fifth in the Eastern United States. "Even the best competition can't intimidate her," noted a local reporter. "She's the class of the shot-putters," commented Coach Mike Harrington. Indeed, variants on the headline "Field Events Lift Raider Girls" were repeated so often that they might just as well have been set in permanent type.
After graduating from Watertown High in 1987, Zoey attended the University of Massachusetts at Boston and then finished her degree in management at Bentley College. But she hardly let go of athletics; even her day job was as an administrator of the Waverley Oaks Athletic Club. Closer to her heart, perhaps, she stayed involved with scholastic competition as an assistant coach at WHS from 1988 through 1993. These days, she plays softball and racquetball, while working as a sales coordinator for Office Environments of New England.
"I can't tell you how much my Watertown sports experience meant to my personal growth," Zoey says today, and that, after all, is what scholastic athletics are supposed to be about. That, and the unfading memory of a shot-put, flying through the dawn air.