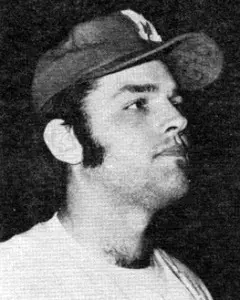 William Richard Grant
1965
Baseball
When Ricky Grant came up to bat his senior year, opposing outfielders played him on the Orchard Street sidewalk.
And why not? He was captain of the baseball team – which went to the state semifinals that year. He had hit .415 as a sophomore, .371 as a junior. His junior and senior years he was named to every All-Scholastic lineup in print. He had power to spare. He made only one error in three seasons at first base. And he could pitch, too: in one game against Newton South in 1965 he pitched a one-hitter, striking out eleven. Coach (and fellow Hall inductee) George Yankowski said of Rick that it hurt to catch even the batting practice he threw.
Rick was selected for the Hearst newspaper chain's Sandlot All-Star tournament three times, playing in Fenway Park and New York's Shea Stadium – and being touted as ` `the hottest thing to hit the team since the days of Al Kaline and Bill Skowron." In 1964 he went nine for eleven, with eleven runs batted in, in three games. After hitting a 475-foot homer in a preliminary contest, the tournament MVP continued his torrid pace into the finals. Indeed, raved the New York Journal American, ` `his prodigious blasts in Shea Stadium . . . made him the No. 1 conversation piece among a galaxy of major league scouts."
Rick received offers from over thirty colleges his senior year Again, why not? Until he gave up football his senior year to concentrate on baseball, he was a menace on the gridiron. And he was a basketball star as well, a three-year starter, co-captain of the basketball team and All-Scholastic his senior year, strong on the boards and averaging over twenty points a game. Gentile's High School Basketball annual hailed him as "one of the school's all-time greats" and predicted he would be "one of New England's best" as well. In 1965 Rick set the high school record for consecutive free throws in a single game with nineteen against Newton North. He easily won his classmates' plaudits as "Best Athlete."
Set to go to the University of Arizona on a full scholarship, in June of 1965 Rick was the first draft pick of the Milwaukee Braves, who craved what they called his ` `unlimited power." While awaiting terms, he played for the Harwich Town team in the Cape Cod league, and later that summer he signed with a $58,000 bonus. To put that in perspective, consider that the same year, the highest bonus ever given a pitcher was handed out by the Washington Senators – $75,000.
Rick reported to the Florida State League, and rose rapidly through the Braves' system. He was moved up to the Jamestown Braves of the New York-Penn circuit, where he had two homers and two triples in his first five games. In 1968 he was an All-Star for Western Carolina's Greenwood Braves, and repeated the feat in 1969 in the Texas League. His hitting skills were much in evidence as he led that league in homers most of the season, but he hadn't forgotten how to pitch either: for Greenwood he racked up a 7-0 record as a reliever.
In 1971 he was on the Atlanta Braves' major league roster along with such superstars as Hank Aaron, Eddie Mathews, Hoyt Wilhelm, and Phil Niekro.
A rotator cuff injury ended Rick's playing days in 1972 at the peak of his skills. But everyone who saw him play remembers just how formidable those skills were. "Ricky was the most gifted athlete of our era," Allen Gallagher, his basketball teammate and now director of the Watertown Boys and Girls Club, states flatly. "He was a natural athlete with amazing coordination, great instincts and a real feel for whatever sport he was playing. He was one of those people who took charge of his teammates and made them play better."
But none of them ever played better than Ricky Grant.