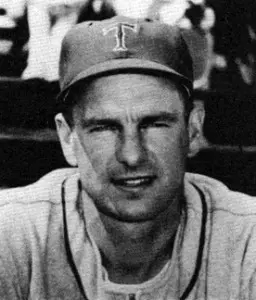 Baseball, Football, Basketball
Bill Kearns grew up with five sisters and no brothers during the depth of the Depression, when sandlot and schoolboy sports meant everything. It is perhaps no wonder, then, that he was driven to the playing fields! What people instead wondered at – or, more accurately, marveled at – were his athletic gifts.
Bill went from being a star on the sandlot to a star at Watertown High. He lettered in three sports: football, baseball, and basketball. He was captain of the first WHS hoops squad ever to go to the state tournament, in 1940. And on the bases, he was All-Scholastic, indeed, All-everything. Bill shared graduation honors as the class' best athlete with Hall of Famer George Yankowski. He was Most Popular, too – but again, with Yankowski. When it came to being Best Looking, though – there, Bill stood all-alone!
Bill graduated from Watertown High in 1940 and went on to Bridgton Academy, where he continued to star on the court and on the diamond. As World War II broke out he enlisted in the Navy, serving on a submarine chaser in the North Atlantic and shifting to the Pacific front in time to be at Okinawa at the peak of the kamikaze attacks there. He was at Tokyo Bay during the Japanese surrender, one of the first Americans to actually land on Japan with the army of occupation, a true war hero.
After the war, Bill returned to school at Tufts University. There, he went back to his winning ways on the playing field. Teammate Ed Schluntz, who later served as Brookline High's coach and athletic director for twenty years, remembers Bill as a smart and talented ballplayer. "His game was always smooth and graceful, almost cat-like," recalls Ed. "One could say he was poetry in motion – but strong, too. He had great form, did everything right. Even in our college days he was a thinker, a strategist. And he's a classy guy, to boot."
Bill's skills made the pro leagues take notice. He came to the attention of the Brooklyn Dodgers organization and was courted by none other than the legendary Branch Rickey, who convinced him to sign on to the Dodgers' farm system. Bill played in the minors for four years, with and against a variety of major league stars and our own Oscar Khederian. In the meantime he finished his degree at Tufts and, later, started graduate work at Springfield College.
While in the Dodgers organization Bill's managerial talents became evident, and he became a player/manager in the Canadian League. Returning to the States, he became a scout for the Dodgers, then for the Chicago White Sox and Kansas City Royals. Indeed, he ran the Royals' Baseball Academy in Florida in 1972 and 1973. During this time he was also coaching and teaching back in Massachusetts – at Somerset High School, at Weymouth High (for seventeen years), and at Tufts.
Bill is now a major league scout for the Seattle Mariners organization. He attends about two hundred games a year, checking on players, keeping a book on upcoming pitchers, attending spring training and winter trade meetings – a dream job for a sandlot star made good.
And Bill Kearns has surely made good. He's already a member of the Tufts University and Somerset High Halls of Fame. But tonight, we hope, will be even more special than those notable honors. For tonight, we are pleased and proud to reclaim him as one of our own.