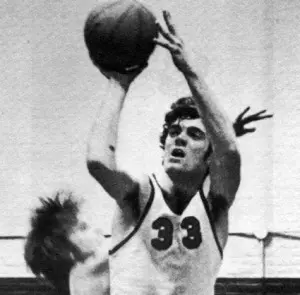 Billy Hatten is arguably the best basketball player that Watertown High has ever produced. Consider that he set the school scoring record in his senior year in 1973 and was WHS' first thousand point scorer – at what was then a three year school. His number "33" is retired. He played on two Tech Tourney teams and represented Watertown in the 1973 Boston Shootout. In 1972 he was named as a Boston Globe All-Scholastic and to the All-Middlesex League first team; in 1973 he was named by both the Globe and Boston Herald as a first team All-Scholastic. In 1973 he was the Middlesex League's Most Valuable Player.
Lesser known, but also impressive, are Bill's track and field achievements. In 1972 he was the Middlesex League champion in both the high jump and 440. He set the Watertown High record in the high jump, and in that event placed second at the 1972 New England Track Championships.
Bill went on to Assumption College in Worcester, where he scored over 700 points in a stellar career that took him to the New England Division II regional tournament four times and all the way to the NCAA Division II Final Four twice. He also participated in track during his freshman year, and was named the track team's MVP en route to setting the Assumption high jump record.
After college Bill served as head basketball coach at Quinsigamond Community College for a year. He then went to work for the Metropolitan Life Insurance Company and is currently their Director of Asset Management Sales in New England and New York. He married WHS classmate Marjorie Walsh in 1979; they currently live in Medfield with their four children.