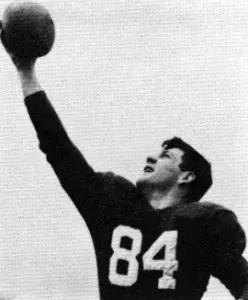 Football, Basketball, Hockey
Generations of Watertown students know Tom Oates as a teacher – for nearly forty years until his retirement in 1992, he served in the Watertown school system, ultimately as Assistant Superintendent of schools. But what they may not know is that Tom was also one of Watertown's greatest athletes.
Tom lettered in three sports at Watertown High: football, basketball, and hockey. While he claims to have been "the worst skater in the Bay State League," on the gridiron Tom – lining up at end – had few equals. By his senior season of 1947, he was a star, named to half a dozen All-Star teams and All-Scholastic squads and recruited by seventy-plus colleges across the nation. He chose Boston University, where Harry Agganis – the "Golden Greek" – would soon set new standards for quarterback play.
Tom quickly made a name for himself. He was a key part of the 'Terriers' balanced air attack which brought the 1949 B.U. squad a stunning 52-20 victory over West Virginia (a game in which Tom hauled in three touchdown passes) and a near upset of national champion Maryland. Agganis hit Tom for thirty-five receptions in 1951, setting a new record for Terrier receivers and placing him twentieth in the nation that season. That mark still stands second all-time at B.U.
Tom ranks second in B.U.'s annals for most yards gained in a season, third in career touchdown receptions, fourth in total receptions, and seventh in career yardage. And he played both ways – Coach Buff Donelli thought so highly of Tom's athletic ability and smarts that he played him at offensive and defensive end, as well as at linebacker. Indeed, Ed Donnelly described Tom as "one of the best ends I ever coached. He could do it all…"
People noticed. In 1951 Tom was named to the All-New England collegiate team and to the All-East squad, and won Honorable Mention notice on seven All-American team listings. Not surprisingly, Tom was named to the Boston University Hall of Fame several years ago.
Despite a variety of pro offers, including one from the San Francisco 49ers, Tom decided to follow his heart and pursue a teaching career in his hometown, receiving his Masters Degree in Education from Suffolk University. After a stint in the Korean War-era Army, Tom started at the Coolidge School. He became Assistant Principal at the West Junior High School in 1960, and that school's principal in 1968. In 1975, he was named Assistant Superintendent of Schools, a post he held with distinction for more than fifteen years.
Nowadays, as a not-so-elder statesman of Watertown, Tom confines his athletic endeavors to the golf links at the Oakley Country Club. But perhaps from time to time one of his foursome might hail a tough putt by remembering an old headline marking another Red Raider victory: ". '0 . . . 0 . . . Tommy Oates!"