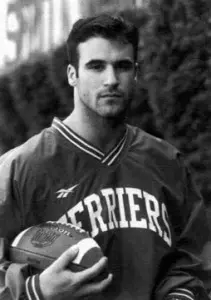 In the 1990's the combination of a small roster and competing in the Middlesex League made the Watertown High football team's chances of a winning season seem impossible. But the Raiders found out when you have a guy like Tom Dicker on your team, nothing is impossible.
The 1996 graduate, who will be inducted into the Hall of Fame on May 9, was a four-year wonder for the Raiders football team and when his senior season came around, he led the team to an improbable 7-2-1 mark (only winning season since 1985). In that year the running back had 22 out of his 43 career touchdowns and over 1600 of his 3000 plus career rushing yards. That, despite everyone on the opposition knowing that he was constantly going to get the ball.
"He will tell you differently but he carried that team on his back that season," 1995 Raider quarterback Paul Fantasia said of his 5'10 185 pound teammate and fellow co-captain. "He was by far the best pure talented high school player I have ever seen on the football field and I am not the only one who will tell you that. We barely had 30 kids on our team that season and only about 15 or 16 who played. But somehow Tom put us on par with some of the best teams in the Middlesex League. Teams who had over 70 guys on their roster. That alone speaks volumes about how good he was. He was simply on another level. The plays he made were just unbelievable. People will jokingly tell me that I am the last starting quarterback in Watertown to have a winning season but all I had to do was give the ball to Tommy. He made me look a hell of a lot better than I really was."
Throughout his football career Dicker did so many unimaginable things that there are people who actually own highlight tapes of his career. One of them is Scott Giusti, who was an assistant coach in Watertown under Paul "Buster" McGovern in Dicker's day. Now an assistant coach along with McGovern at Waltham High, Giusti, himself, was quite a running back in his playing days in Waltham. He was the guy Dicker idolized and admired growing up but by the time Dicker's career was over, the admiration became mutual.
"We had a lot of good kids who tried very hard and gave it their all during that 95 season," Giusti recalled. "But without Tommy on that team, I really don't think we would have won one game. He's the best back I have ever seen or will ever see. He wasn't just good. He was scary good. He constantly did things where you would say to yourself 'how the heck did he do that'. And he had unbelievable strength and speed. I remember against Woburn one game when he ran a sweep and was about a yard away from being forced out of pounds by several defensive players. He somehow stopped on a dime and turned it 60 yards for a touchdown. I asked myself if I really saw what I saw."
Giusti also recalled the time when the Raiders were down four against Melrose late in the game. Fantasia got hurt and the backup quarterback, not used too much game action, kept fumbling the snap. On fourth and 14 deep in their own territory Dicker insisted during the timeout that if you got him the ball on a simple straight handoff he would break it for a touchdown. Sure enough on the next play he took it 80 yards for the game winner.
"I remember him out-running one of the fastest guys in the league on that touchdown," Giusti said. "I tell you he was so good that people who didn't usually go to high school games traveled miles just to watch him play."
Those plays Giusti recalled were something special but there are two moments that Dicker is particularly most remembered for. One was his five touchdown game against Winchester in week seven of the 1995 season. Down 34-19 at the half, Dicker had TD runs of 23, 77, and five in the second half to go with the 33-yard and the seven yard scoring runs he had in the first half to lead the team all the way back to victory.
In all, Dicker torched the Sachem defense for 228 yards on 21 carries. His 23-yard run was the one that stuck out the most as he shook off three Sachem linemen who swear they had him in his grasp. People who weren't in awe of Dicker before that game certainly became that way after this one. Dicker, who also played defensive end for the Raiders and had made some key plays all year long, was key in preserving the 44-34 win over Winchester with his stellar defensive play, which led to a scoreless second half for the Sachems.
The amazing thing about this game, though, was that, Dicker, nicknamed "Mr. Everything" by local writers because he also punted and kicked for the team, came into it this one badly banged up and coach McGovern was sure a mortal man wouldn't be able to play the following week. But Dicker once again proved he wasn't mortal.
"He just doesn't stop," Fantasia was quoted as saying after that game. "He just plays with so much heart and so much intensity. It's incredible to watch him play and it's a privilege to be on the same field with him."
The Winchester game brought out such high praise that Channel Five's Mike Lynch wanted him for his weekly High Five segment, which featured the state's high school scholastic athlete of the week.
"That was quite an honor," Dicker said. "Mike is a great person and he treated me like he was a regular guy. I still have tapes of that and watch it now and then. That entire senior season will go down as my best memories at Watertown High. We beat a lot of teams like the Winchesters and Woburns for the first time who had much bigger schools. For our team to only lose two games as undersized and undermanned as we were was incredible. Today, I love looking back on that year but I am angered that I get too much of the credit. The whole team deserves equal credit for what we accomplished. Everyone on that team played with passion and guts."
The other thing Dicker is most remembered for is what he did during a contest against Wakefield in that same '95 campaign. Dicker took a carry up the middle but a Warrior lineman knocked the ball in the air. No problem for Dicker, however. While still running in full stride he pinned the ball against his back and took it into the end zone for a 35-yard touchdown.
"There were so many plays that only he could do," Giusti said. "He was just phenomenal."
McGovern, who became head coach in 1993, first saw Dicker play as a spectator in the 1992 season finale on Thanksgiving. McGovern could see he was good but by the time Dicker graduated McGovern knew he had one very special football player.
"I've coached for 35 years at Waltham, Concord, and Watertown and I've never seen a better running back," McGovern said. "Even Scott, who was an outstanding runner (over 1200 yards one season) told me that if I was coaching both him and Tom in the same backfield, I would be better off just having him block for Tom. You know I could go on forever how talented he was but the thing I have to mention is how much of a team player he was. When your most talented guy is a terrific, classy kid it makes for a great team atmosphere."
During Dicker's senior season, many colleges and universities pursued him. Among the several that were interested, however, there weren't many who wanted to give him a full scholarship. Boston University (whose head coach was there for the Winchester game) was one of those who offered him a full ride so Dicker became a Terrier. Once again, as he had done since he was a seven-year-old kid in Pop Warner, Dicker made an immediate impact for the Terriers. He even holds the B.U. record for the longest touchdown from scrimmage as he broke one 99 yards. Things were going fine until the unthinkable happened. B.U. cancelled its 103-year-old football program following Dicker's sophomore year. The thing he loved most in life was suddenly gone.
"At the time it was pretty devastating," Dicker remembered. "Football was all I knew and as a 19-year old it was emotionally upsetting. I didn't know what an August was like without football. I didn't transfer because I not only wanted to keep the full scholarship but I suffered a concussion and had a back injury and I knew my stock wouldn't be so high with other schools."
However, Dicker, turned to another college sport.
"My roommate would see me depressed about the football program being taken away and one day he said to me 'why don't you come to my rugby practice and check it out.' He told me I might like it and that since I was staying at B.U. anyway, that I might as well take part in another sport."
Before long Dicker was a big part of the Terrier Rugby team and was even voted an All-American. With the numerous accolades and honors from his high school football days especially during his senior season (Boston Globe All Scholastic, Boston Herald All-Scholastic, New Tribune All-Star, Boston Globe Division Two Player of the Year, Carrol Classic All-Star, and Shriners All-star, among them) it was easy to forget that Dicker was very talented in other sports. He was a varsity letter in baseball and basketball and was an exceptional Raider track athlete. He was so good at track participating in the long jump (set Watertown record that still exists today with leap of 22′ 6″), high jump, (two-time Class D state champ) shot-put, discus, dashes and relays, that he earned that rare trip a Watertown athlete makes to the All-State meet, and was also voted the Middlesex League MVP.
"I have one word to describe Tom and that word is phenomenal," Watertown outdoor track coach Bill Flecca, who had Dicker for both his junior and senior seasons, said. "He was one of the best I have ever coached in my 32 years. He could do it all. I remember one time an opposing coach stood there baffled when he saw Tom high jump 6′ 4″. He said to me I haven't see that in a long while. But that aside, I really loved the fact that he was such a coachable kid. He was something special."
Today, Dicker, who received a degree in criminal justice, is a cop in Watertown on the Night Patrol Division. He is the proud father of two young children. His son is two and his daughter eight months. Before you know it, they, too will be hearing about how great an athlete their Dad was.
"We still talk about him today," Giusti said. "It's like we still can't believe what he did."