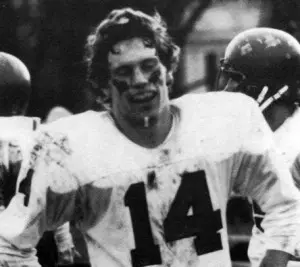 Fball, Track/F, Bseball, Hockey
The undefeated 1977 football team had many stars. One could make a plausible case, however, that its brightest light was Tom Tracy. As a versatile two-way back, he ran, caught, and threw his way to the team's Most Valuable Player award. After the season, he won further mention as a Middlesex League All-Star and a first team All-Scholastic in both the Globe and the Herald, was named to the All-Eastern Massachusetts team and won the National Football Foundation and Hall of Fame Scholar-Athlete Award.
Tom had not exactly come out of nowhere. He had played football, hockey, and baseball since his sophomore year; as a junior he had started for the Middlesex League football champions in 1976. And as a senior he was his baseball team's MVP and a league All-Star
His senior year he turned his attention to indoor track as well, and in his only year on the track team turned in a spectacular season. He was again a league All-Star and was MVP for yet another team. He won a silver medal in the fifty-yard dash at the state championships and went to the semi-finals of the East Coast High School Track Meet held at Princeton in 1978.
Tom went to Holy Cross on a football scholarship, only to suffer two knee injuries, which ended his playing days. He graduated in 1982 and went on to get his M.B.A. in 1987. He is now the director of finance for the state's procurement division and lives in Waltham with his wife (WHS classmate Julie Cieslik) and their two daughters.