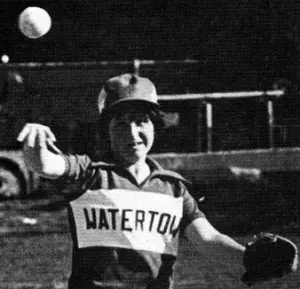 F.Hockey, I.Hockey, Softball
The Class of ' 78 left Watertown High with such a tradition of gridiron excellence that at times it threatens to overshadow the other athletic stars that emerged that year. One of these was certainly Sue Duffy, who excelled in three sports and came away from her high school and collegiate careers with a lifetime's worth of awards and acclaim. The Hall is proud to bring Sue's achievements into prominence and add one more plaudit to her list.
Susan's versatility was impressive. She played field hockey and softball. And she not only starred in but actually helped found at WHS the sport of women's ice hockey – a pioneer program that was originally guided by Peter Pomponi, the architect of the team and a man Sue remembers very fondly as a great influence.
As a junior Sue won the Potter Award for Athletic Excellence as the high school's outstanding underclass athlete. Her senior year she was all-everything: she captained the field hockey and softball teams and was the latter team's Most Valuable Player, as well as a member of the Middlesex League's All Star team. She captained the ice hockey team for two years, leading the team to victories in two-thirds of its games her senior year. She was recognized as her class' outstanding female athlete in both softball and ice hockey; won the school's "Superstar" athletic contest; and, for good measure, was a National Honor Society inductee.
Little wonder that Providence College offered her a scholarship to play hockey in the Big East!
So, upon her graduation in 1978, Susan went to Providence, where her athletic exploits continued, especially on-ice. She played softball for two seasons and hockey for four, serving as the Lady Friars' hockey captain for two years from the center spot. She graduated in 1982, with a degree in Business Administration, winner of a host of awards for her athletic and academic accomplishments – including the Connolly Memorial Award for Leadership in Athletics and membership in the Friars' Club.
Since then, Sue has worked for several manufacturers in the food industry and currently serves as Director of Manufacturing Services for Brigham's Ice Cream Company. She counteracts her free desserts with a healthy diet of skiing, golfing, and running – though, if pressed, she will admit to having an affinity for "lying on the beach in Marshfield."
Charlie Vento, Sue's softball coach, recalls her as a clutch player, who ` `led the team in batting and could always be counted on to come through." And he recalled, too, her fiery leadership qualities. ` `Her most important contribution," he muses, "was as the team's leader. She didn't expect others to do what she couldn't do: '
The only trouble, from her teammates' perspective, was that there isn't much Sue Duffy couldn't do.