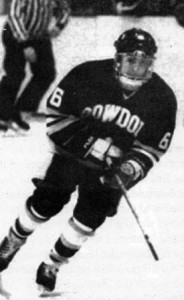 Steve Kashian could skate before he could walk. Well, OK, chalk that up as urban legend, but the truth is probably not too distant from the myth. Certainly by the time he was a kindergarten graduate he was a key cog in the Watertown youth hockey machine. At eleven he was a member of the Greater Boston Kings select all-star squad. At twelve he was part of the Boston Braves pee-wee hockey all-star program, competing at the Boston Garden and in international tourneys. At Watertown High, he was the captain of the freshman team, tallying twenty-six points.
By his sophomore season, Coach Jim Travers called Steve "the best forward in the league right now," for his hustle and scoring prowess, including a two-goal game against Belmont. "He can fly," said Travers. "He's like a little bee, and he's a great playmaker." Longtime observer of the Watertown hockey scene Art Venezia concurred: "Of all the hockey players I've seen, including at the college level, no one had a quicker first step than Steve," he has noted. Junior year Steve led the team in scoring with twenty-three points, and was the team's most valuable player. In an 8-0 blanking of Winchester, he netted three goals, including one while shorthanded, and added an assist. He also continued to torment Belmont – in a win that extended the Raiders' unbeaten streak over the Marauders to nine, Steve scored the opening goal just forty-nine seconds into the game, later adding an assist on the game-winning tally.
His senior season, Steve – now team captain – continued to shine. He was named to the Middlesex League All-Star squad for the third straight season, and was the League's Most Valuable Player and leading scorer to boot. He was also a member of every local paper's all-star team, a first team selection for both the Globe and Herald. For good measure, Steve showed his versatility on less slippery sporting terrain. Since freshman year, he had been a key singles player on the WHS tennis team, a member of the state tournament team in 1985. In 1988 he qualified for the state singles tourney and was the Middlesex League MVP in that sport as well. He rounded it off as a member of the National Honor Society. In all, a pretty impressive year.
But – to mix metaphors rather shamelessly – that was only par for the course. Going onto Bowdoin College, Steve continued to shine both in the classroom and the rink. He was a consistent dean's list student and wound up a James Bowdoin Scholar for his distinguished academic performance in economics and international relations. He was also a four-year starter for the Polar Bears – the squad's most valuable player twice running. As a freshman, he scored twenty points and made key contributions to the Bears' playoff run. After tallying over thirty-five points per year starting his sophomore season, Steve wound up ninth on the all-time Bowdoin scoring list with 130 career points. In just four games in 1990-91, he ran up four goals and seven assists for an eye-popping eleven points.
"Steve is a highly skilled player who really comes ready to play every night… one of the premier players in the league," observed Coach Terry Meagher. "His leadership qualities are obvious." The Hall couldn't agree more, and he is an obvious selection to join the ranks of Watertown's elite. We might make one amendment, though. Coach Meagher's first statement should read not "the league" – but "any league."