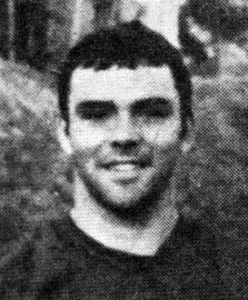 They called him "Sparky," and not just because he had a namesake in the Yankees' pitching star. More to the point, Steve Lyle was the spark of every team he played on at Watertown High. His statistics, though impressive in their own right, only go part of the way towards summing up the outstanding ability of this great athlete.
His football coach, John Barbati, hails Sparky as "our go-to guy – a great, gutsy runner." Pat Barry, who played football and baseball with him, recalls Sparky as "a blue-collar type of player with his nose tight to the grindstone; one of the hardest workers I've ever seen, and one whose example brought the team to life." And Warren Tolman, Sparky's football teammate who now serves as Watertown's State Representative, praises him as "a real team leader, a fine natural athlete with an amazing work ethic, who set a fire under his teammates and made us play that much better."
Of course, Sparky's record is pretty impressive in its own right. A hardnosed shortstop, he was a three-year starter on the baseball team – he captained the squad his senior year, leading the way to a .600 winning percentage. On the gridiron, he played on the 1976 and 1977 Middlesex League Champions; the 1977 squad, of course, ran up a perfect 10-0 record and was inducted into the Hall last year Sparky was a tri-captain on that team the third-leading scorer in the state in Division I and the team's Most Valuable Player on offense. He was named to the Middlesex League All-Star team and received honorable mention notice as an All-Scholastic. He was named the high school's best senior athlete by his classmates as well as by an alumni group.
After graduating from Watertown High in 1978, Sparky travelled to the University of Maine, where he played football under future Boston College coach Jack Bicknell.
Sparky had always been interested in working with his hands; he had even won second place in a statewide woodworking competition during his high school days. So from Maine Sparky went to Alaska, where he was able to combine his talents as a craftsman with his athletic ability. Diving into the wilderness, he lived in a tent in deep woods and canoed nearly four hundred miles of the Yukon River, from White Horse to Dawson City. Trading the frontier for the foreign, his travels continued across Hawaii, Asia, and Europe, ending up in Haiti, where he lived for some time making desks for the schoolchildren of a poverty-stricken village.
At last returning to the U. S., Steve settled down and formed his own contracting partnership, Tucci & Lyle, where he has worked for the last eleven years. He now lives in Waltham, and is teaching Steve Jr to throw.