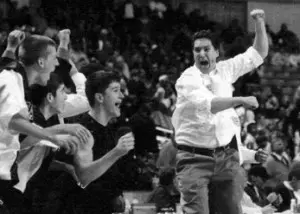 In 1994 then Watertown High athletic director Richard Garabedian gambled and put a young 24-year old man named Steve Harrington to head coach his varsity boys basketball program.
It just may have been the best decision he has ever made.
"I remember there were a lot of questions about his age and the fact that he didn't have any previous coaching experience," Elaine Paradis, who worked in the Athletic Department at the time before coming A.D. herself, said. "But Mr. Garabedian stuck to his guns. He knew what kind of basketball player Steve was and recognized his intelligence and passion for the game."
Inheriting a team that had won just one game in 1993-94, it took just two seasons to get to double digit victories and the trend hasn't stopped since. Harrington, whose Red Raider teams have been averaging 17 wins a season in the past 12 years, has taken the team to heights never thought imaginable a decade ago. In his tenure the team has a Middlesex League high 12 straight tournament appearances, two Middlesex League titles, three sectional championships, a state semi-finals, and the school's first ever state title in 2006-2007. He also coached six All-Scholastics and five Middlesex League M.V.P's and was twice named the Boston Globe Division Three Coach of the Year.
"Words cannot describe how good a coach he is," 2000 Watertown High graduate Bobby Murgo, who at that time broke the school record with over 1400 points and was one of Harrington's five MVP's said. "I mean just look at what he has done. I know I wouldn't have been half the player I was without him. He taught me so much about the game. When I went to Merrimack (4 year starter) after I graduated I can honestly tell you I felt that I was a step ahead of everyone on the team because of his knowledge. I felt like there was no way these other players had a high school coach who was as smart as coach Harrington is."
Anthony Coppola, a member of the 2006-2007 state championship team and another MVP coached by Harrington shares similar feelings that Murgo does. The guard, who currently holds the Raider career scoring mark with 1558 points and now stars at Wheaton College, says he will never forget the joy of capturing a state title and will never forget what Harrington did for his career.
"You know when I was in eighth grade, I seriously thought about going to B.C. High," Coppola said. "But when I came to the games and I saw the place packed and the atmosphere, I knew I wanted to go to Watertown.
"It turned out to be a great decision because coach Harrington really meant a difference in my career. He taught me everything I know and made the players not only desire every game but desire every play. He is such an unbelievable coach. When the tallest player you ever coached was 6'4′" and you win a state championship, you have to be pretty darn smart."
Not only extremely smart, Harrington was an extremely talented athlete. At Wakefield high school he was an excellent baseball player (captain, all league performer) and an outstanding soccer player (school record 61 goals), and at Brandeis University he excelled in baseball again even pitching a complete game win in the 1992 NCAA Baseball tournament. But those great accomplishments took a back seat to what he did on the basketball court. It is because of his immeasurable feats in the game of basketball that Harrington is a member of the Wakefield High and Brandeis University athletic hall of fames and will become a Watertown High hall of fame member on May 9. He is only one of two (along with Watertown Field Hockey coach Eileen Donahue) to be voted in while still active.
"We feel when you can create a dynasty and go well above and beyond what's expected you deserve that honor," Watertown hall of fame Chairman Bob Kaprielian said. "He has changed the whole culture of the program since becoming coach. When doing the local cable basketball show I was so impressed with how complete his preparation was. He was prepared like a surgeon and you could see the players had that quiet confidence you have when you are prepared. He also knows exactly how to communicate with his players to get them to understand what he is telling them."
Harrington first fell in love with the game of basketball at the age of five. His mother would take him to watch his uncle, who was a member of the Northeastern basketball team; play and soon he decided that is what he wanted to do. Harrington never stopped playing and learning about the game and when he reached high school, he was a star in the making. By the time he was finished with his high school career, the standout guard collected 1399 points (2nd all-time leading scorer in school history), and twice named an all-scholastic. He was the main catalyst in leading the team to a state sectional victory over a very strong Wayland team.
" I can't say enough about how good a player Steve was," his high school coach Ellis "Sonny Lane" said. "He was exceptionally quick. In over 80 years of basketball at Wakefield High, he is definitely one of their top ten players. He was the only sophomore that I had that made the all-league all scholastic team and at that time he was only one of three freshmen ever to be good enough to play on the varsity team. Everyone knows he was a great scorer but you have to realize he was also a great all-around player. He could rebound, pass, and play defense as well as anyone but what I really loved about him is that the bigger the game, the better he played."
Even as a high school player, Lane could tell Harrington had the potential to be a great coach. He never missed practice and only missed one game (ironically it was against Watertown, after he hurt himself jumping from a chair trying to dunk the ball) and just had that rare over the top desire to succeed.
"He was just so serious about winning and exceptionally smart," Lane said. "He was definitely one of the players I envisioned having outstanding coaching ability. Today, I can tell you he is not only an outstanding coach but a real classy young man."
After graduating from Wakefield High, Harrington attended Fordam University for one year but then decided he wanted to be closer to home so he transferred to Brandeis where his basketball stardom continued. By the time he was through with Brandeis, he became that school's second all-time leading scorer with 1632 points and also led the team to the 1991-92 ECAC championship by scoring a whopping 32.3 points a game while also earning MVP honors.
"I was a freshman when he was a senior," Brandeis teammate Anthony Latina, who is now an assistant coach at Sacred Heart University in Fairfield Connecticut, said. "I couldn't believe how good he was. I also played guard and I got a ton of assists because he could shoot like crazy. He shot over 50% and that made me look like a much better player. But what separated him from the rest of the players was his intelligence and understanding of the game. He could read defenses so well that there were times where it looked like the opposing team got out of his way so he can drive in for a lay-up. He also had that work ethic that became infectious with his teammates. I can see why he is such a great coach today because you admired the passion he had and you wanted to mirror it. His players today take on their coach's personality and that is why they are so successful."
Harrington's coach his senior year; Ken Still, agrees that Harrington was born to coach. Still, who took over for Kevin O'Brien, could see in just one season of coaching Harrington that he had all the special qualities to become a successful head mentor.
"He knew more about the game than I did," Still recalled. "Being a math major, he was so in tuned with the little pieces of the game like the numbers and the percentages that he would freak us all out. He was like the genius type but what a great player he was also. In my nine years as head coach, he was one of the best. He was a tough, gritty guard and he could score from all angles. There were times when he was a funny guy but on the court he was as serious as it gets. He was always very hard on himself. He felt like he had to play perfect during every second of the game. With the knowledge and determination he has for the game it is no wonder his Watertown teams are so good year after year."
Harrington wasn't sure that coaching was going to turn out to go this well for him when he interviewed for the Watertown High job.
"I just knew after I graduated from college that I still wanted to be involved in sports," Harrington said. "I had to keep it in my life so I saw an opportunity when I saw the Watertown coaching job open. I wasn't sure how long I would last but I have been fortunate enough to have great people around me. You know it takes a lot of people to turn a program around and to set the bar as high as it is today. I was very lucky to have such great assistant coaches, great players, and terrific people from the Recreation Department supporting me. So many people deserve credit."
Three years ago Harrington, who taught at Stoneham High when hired as Watertown basketball coach, was brought over to Watertown to teach Math there as well.
"Right now it's hard to imagine me working anywhere but Watertown. I thoroughly enjoy the community and I am really thankful to all of Watertown."
It's safe to say that all of Watertown is also very thankful to Harrington.