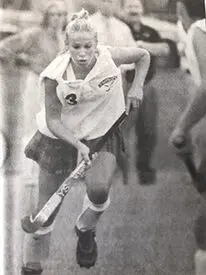 Sara York had a chance as an eighth-grader to take her ice hockey talents to prep school as a budding star skater. But it was the possibilities in town in field hockey that helped convince her to stay and attend Watertown High School.
Four years later, upon graduation in 2002, she had broken the state's all-time scoring record on the ice, while becoming one of the best field hockey players in the state and program history.
In field hockey, she was a two-time USFHA All-American. Twice she was the state's leading scorer, finishing her career with 93 goals and 58 assists. She was a three-time Middlesex League All-Star, and was named the League MVP as a junior. During her senior year, she set a Massachusetts tournament scoring record with nine goals and four assists in just five games while leading the Raiders to their eighth state championship.
Even with all those goals, field hockey coach Eileen Donahue was just as impressed with her overall leadership skills.
"For Sara, it wasn't about who scored how many goals," the coach said. "She took advantage of that because there were a lot of times where she picked up assists when she could have shot the ball."
York concluded her field hockey career in grand fashion in the state title game, scoring all three goals, including the game-winner in overtime, in the thrilling win over Nipmuc Regional.
On the ice, York's accomplishments were mind-boggling. At the time of her graduation she owned the Massachusetts all-time scoring record with 203 career goals. Currently, she is only one of two female hockey players in the state with over 200. She added 95 assists for a total of 298 points.
To top it all off, as a senior she was awarded the WHS senior Athlete of the Year, and the Headmaster's Award.
After graduation, York headed to the University of Virginia to play field hockey, then after one year transferred to Boston College as a sophomore. At BC, York made an immediate impact and continued her success of the field hockey team, starting all 22 games her first season, and leading the team in scoring with 24 goals and 48 points, currently third all-time in school history for single-season points.
By the time she was finished, BC had appeared in three straight NCAA Tournaments and won a Big East title. York was a two-time Northeast Regional All-American, was twice named to the All-Conference team, and ranks eighth all-time in career goals, having played only three seasons at The Heights. As a senior she was not only an assistant captain, but also the vice president of the Student-Athlete Advisory Committee.