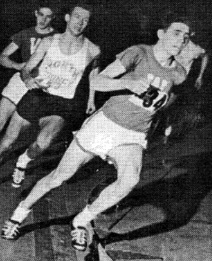 Track/Field, Cross Country
Class B Champs," reads the photo caption but the fact that the date of the picture has been lost to time is almost superfluous – it could refer to any of the dozen years from the late 1940s and 1950s that made Watertown High School the premier track and field program in Massachusetts. Indoor/outdoor long distance or short: the WHS harriers were almost unbeatable.
Those squads had some great coaching, notably Arthur Perkins and Hall member Bob Gleason. But they had a lot of talent to work with: the WHS dynasty was heavy-laden with state titlists and record holders, represented in the Hall by luminaries such as Jay Luck, Dick Bartley Nick DeNitto, and the entire 1958 team. But another standout contributor to those heady days deserves recognition as well. He was captain of the 1957-58 cross country teams, co-captain of indoor and outdoor track those seasons too – state champions all. He still holds the state record in the 600 yard run. He was part of the 1958 relay team that finished fourth in the national championships at Madison Square Garden. His name? Ron Young.
Ron grew up, like many Watertown youths of the era, playing any sport at any time, a fixture at Victory Field. He learned from some of the town's best – pickup football with Jim Lopez, Babe Simourian, Lenny Hill, and baseball with Tony Filicchia or Ted Kelly tennis with Rich Green and Don Costello. It was obvious already, though, that the new kid on the block might be one of the most talented, too. Costello recalls, "Ron could do anything. Whatever the game, he excelled."
Coaches noticed that too. Ron was a Little League standout and soon was playing varsity basketball and football for the West Junior High squad. Around that time Bob Gleason spotted him and, master salesman that he was, suggested Ron go out for cross country-just to build up his endurance for basketball and baseball, you understand, nothing serious. Nothing-serious -just nine state championship teams.
What happened along the way is an oft-told tale. But like all such tales, it is worth re-telling. Outdoors, Ron was a mainstay at the 440-yard distance, winning the state championship in 1957 and 1958. He repeated the feat at 1,000 yards indoors both years. In both his sophomore and junior years he won the three mile Shamrock Road Race, putting that experience to good use in finishing third in the race for the 1957 cross country state title. And, as mentioned, he was a member of the 1958 relay squad that made some national noise – building on its prior success from the 1957 national Penn Relays, where WHS finished an impressive fifth. "He was an anchor," recalls teammate Bartley. "You could always count on his points."
The story of Ron's record run in the 600 at the 1958 MetTrack League finals is worth re-telling, too. Normally Ron ran the 1,000; but that morning at the old East Armory, the usual standard-bearer at the shorter distance, Dick Bartley, was under the weather Coach Gleason decided to make a quick switch. And so Ron was entered in his first and only 600.
To say he weathered the challenge is an understatement. Indeed, he smashed the record previously held by WHS' own Jim Kelley, winning by 12 yards against an all-star field. The new record, 1:19.8, is still new: it still stands. And, in a pleasant twist, with the points in hand, Bartley took his turn at the 1,000 – he won, too.
Graduating from WHS in 1958, Ron went on to the University of Massachusetts, where the Minutemen were perennial contenders for the Yankee Conference Championship. But it was an old Watertown connection that most shaped his life. Don Costello had worked for the Boston Boys & Girls Clubs while in college and set up an interview for Ron, who had worked his own collegiate summers for the Watertown Recreation Department. The Boys & Girls Clubs knew a good thing when they saw him, and Ron was embarked on what is approaching a forty-year career in the nonprofit sector. He worked his way up from youth counselor in South Boston through the administrative ranks, becoming Executive Vice President and CEO of the Boston Clubs in 1984. Along the way he got married (to Jan Swallow Round Hill Vineyards' Northeast Regional Director) and earned his Masters in Education from Springfield College in 1981.
Ron "retired" in 1991 but soon found he missed the challenges and rewards of working with, and for youth and community. In 1994, he became the President and CEO of the MetroWest Boys and Girls Clubs, another multi-million dollar organization that he has worked to build both physically"(through, a new community center in Marlborough) and programmatically (through a new focus on older teens). "It may sound simplistic, he says, ' but the satisfaction of being able to get something back,' like the mentors I had did for me, is still important to me to this day. "
Simplistic? Perhaps the simple lessons are best. Teamwork, and hard work. Dedication, and good grace. Giving something back. These are the lessons Ron Young has lived, and the Hall is glad to honor him for it.