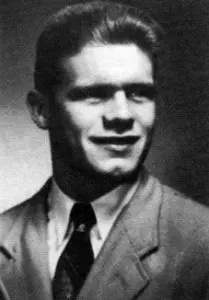 Fball, Bsktball, Bseball, Golf
Bob Clark dominated Watertown High sports in the mid-1940s, captaining football and basketball, starring in baseball and even golf. He was named All-Scholastic in multiple years in multiple sports; no one who ever saw him in action will ever forget his virtual omnipotence on the field of play. His class named him "Best Athlete." Indeed, many recall him as the best all-around athlete ever to come out of Watertown.
Bob was offered athletic scholarships to several colleges, including Notre Dame and Holy Cross, but enlisted during his senior year in the Army Air Corps and fought Japan in China and Burma during World War II. After the war he returned to Massachusetts and played semiprofessional football until a back injury ended his career. He then turned to serving the youth and community of Watertown, coaching the Watertown Junior League baseball team, and several Babe Ruth and Little League teams. In that trite but apt phrase, he was a pillar of the community – he owned the Town Variety Store on Main Street, for example, and ran for Park Commissioner in 1965.
In late March of that year, Bob was killed in an automobile accident. All of Watertown mourned. The Hall is proud to do what it can to honor his memory. We welcome his family here tonight to accept his award.