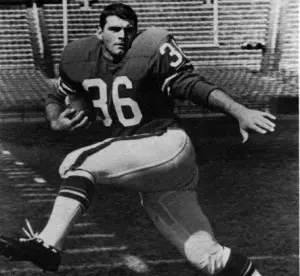 When you consider Watertown High football, a few names come immediately to mind. One of those is Bob Cappadona. Bob graduated from WHS in 1961, having set most of the school's rushing records. He capped his career with an amazing season in which he was the Massachusetts state-scoring champion with 160 points; named to the All Scholastic teams of the Boston Globe, the Boston Herald, and the Boston Record American; captain of the statewide All-Scholastic Team; and named to the national All-American team. His number was retired by the high school. Not a bad career, especially when you realize that he also played track and baseball for all three of his years at Watertown High.
The glory hardly ended there. Bob went on to Notre Dame, and in his stint there was the university's heavyweight boxing champion. In 1962 he transferred to Northeastern University, and became Northeastern's leading rusher, setting the school yardage records for a single season and for his career (in which he exceeded two thousand yards). He played on the 1963 undefeated team and captained the squad his senior year in 1966. His efforts were rewarded with a slew of awards – he was on the All-ECAC team, was named an All-American, and won the national Swede Nelson award for sportsmanship.
In 1966 Bob joined the New England Patriots and was named the Patriots' rookie of the year. He played for the Pats until 1968 when he went to the Buffalo Bills. In 1973, having retired from football, Bob established an insurance agency in Watertown Square, where he remains. He is married to his high school sweetheart and has two sons. He is a member of the Northeastern University Athletic Hall of Fame, and we are glad to make it two for two this evening.