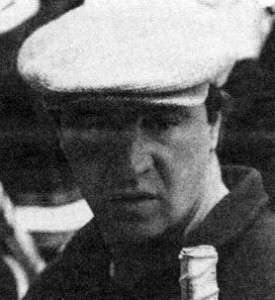 No one doubted that Dick Umile knew a little bit about the game of hockey. After all, at Melrose High he had been All-Scholastic captain and three time league All-Star on a team that won the Middlesex League three straight years – not to mention an outstanding athlete on the track and especially on the gridiron. He had gone on to the University of New Hampshire and captained another outstanding squad, one which advanced to the ECAC semifinals for the first time ever. Along the way Dick skated his way to twenty-first place on UNH's all-time scoring list with 60 goals and 84 assists and capped his collegiate career by being drafted by the NHL's St. Louis Blues and the WHA's Hartford Whalers after the 1971-72 season. He has been inducted into both the Melrose High and the UNH Halls of Fame.
No one doubted, then, that Dick Umile knew the game of hockey, but no one knew if he could turn around Watertown High's struggling program, which had been lurking in the cellar of a tough Middlesex League. In 1975, though, Dick took the reins and began to build that program into a perennial contender, into a champion.
He did this by emphasizing defense, hustle, and, above all, team play. He was a motivator; indeed, some of his players remember that he had an aura" about him that inspired them to perform. Assistant Coach (and WHS star in his own right) Artie Venezia recalls that Dick had ` `a great understanding of the game and was truly unique in his ability to communicate that knowledge to young players. The team's toughness and determination was a reflection of his personality." Hall of Famer Joe MacInnis concurs: ` `Coach Umile got the most out of every player he coached. He not only knew the game, but how to motivate us. He was tough – if he removed the famous `Scalli cap,' look out! – but once the game was over, win or lose, if you gave your all, he was proud of you." Jack Hauswirth notes that "he inspired each player to give one hundred percent both on the ice and in the classroom, while teaching good sportsmanship and self respect. Each player felt obligated and honored to give that hundred percent effort – for the betterment of the team."
Over his tenure Dick worked with the Watertown Youth Hockey program to get young people on the ice and inspired to excel. The results were soon clear to all, as players like Jack Deignan, Don MacCaughey, Shawn Real, Chris Vlachos, John Khozozian, John Leitner, Tim Duffy, Dean Sacca, Mike Venezia, Hauswirth, and MacInnis filtered up to the high school. In 1983 the Raiders qualified for the Division I State Hockey tournament, their first postseason play since Art Shannon led the legendary 1948 squad into the playoffs. ` `These boys," Dick noted proudly, ` `know what the word `team' is really supposed to mean." That was because their coach had left them little doubt about its definition. And the magic continued, as Umile's driven squad beat Danvers in the first round, only to fall to St. John's Prep by one goal in the second.
The next year, the Raiders would not be denied. They posted a 15-3-0 record en route to Watertown's first Middlesex League title ever and first league crown since that 1948 season. The title-clinching victory over Stoneham illustrated the squad's greatness well: a 4-1 win sparked by stingy defense, strong goaltending from Leitner, balanced scoring (two goals for Hauswirth to go with one apiece for MacInnis and Tom Egan), and all-around team play. Roaring into the playoffs, the Raiders made it all the way to the Boston Garden, battling into the state semi-finals against perennial powerhouse Matignon. The Warriors, looking for their fifth straight state title, had breezed into the semis. But they would not breeze that night; as the Press detailed, ` `Coach Umile's boys were about to be recognized for their character and composure. As Matignon settled down to feast on their next victim, Watertown took a scary bite out of them." As Dick later said, ` `we never intended to represent our town at a sightseeing party! "
The hard-fought game surprised all comers – except those from Watertown, who knew first-hand of the team's spirit and drive. In recognition of the Raiders' great season, Dick was named the Division I Coach of the Year by both the Globe and the Herald, a fitting tribute to his efforts, his motivation, his team building. As Sacca – himself now the varsity coach of the WHS icemen – put it, ` `all Coach needed to do was walk into the locker room and look into your eyes. You knew it was time for battle." And battle for him the Raiders truly did. For the next year the squad won a second straight league title with a 16-2-0 mark. After another tournament victory in the first round, an epic battle with Wakefield ensued, with the Raiders bested but not beaten after three intense overtime periods of play.
The next year Dick moved on to join Providence College as assistant coach, and in 1990 he would rejoin his alma mater, UNH, as head coach. Through 1994 he had racked up a record of 87-52-10, named the New England and Hockey East Coach of the Year in 1991. But despite his triumphs elsewhere, the Watertown community will ever claim Dick as its own. Chris Vlachos speaks for many when he says that ` `every time I see him on television as coach of UNH, it makes me feel so proud that I once played for him. Coach Umile gave us so many great memories and I can't thank him enough for that."
That seems to be the consensus of those who know him. Artie Venezia perhaps sums it up best. "The true legacy of a coach," he notes "is how his former players remember him. And, to a man, all the hockey alumni of the Umile era speak of him only in the most glowing terms." That's not surprising, for Dick Umile made the community of Watertown proud. The Hall, in turn, is proud to honor his great career.