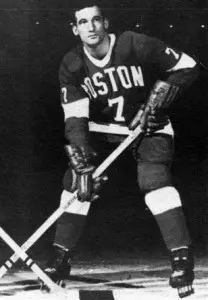 Football, Hockey, Baseball
Rich Green graduated from Watertown High in 1960. He played football, baseball, and hockey, and it was in the latter that the defenseman truly stood out. He co-captained the team his senior year and led the squad to the team's best season in fifteen years. He went on to the Tilton School for a year of post-graduate study, and was named athlete of the year for his football and hockey prowess.
In 1961 Rich went to Boston University where he was the co-captain of the 1962-63 squad. He was named an All-American, the only American-born player to achieve that honor. He also won the Cochrane Award as that year's outstanding BU athlete and the Walter A. Brown Trophy recognizing his contribution to amateur hockey as "the greatest . . . in New England". His coach at BU, Jack Kelley, called him "the greatest credit to the game of hockey that I've had the privilege to coach."
A freak neck injury in 1964 ended Rich's playing career, and he went on to graduate in 1966 and take a job as assistant varsity hockey coach at BU. In 1968 be became head coach at Colby College, where he also coached tennis and football.
From 1972 to the present Rich has served as a National Hockey League regional scout, first for the Hartford Whalers and, since 1980, for the New York Islanders. Rich's arrival and the Islanders' Stanley Cup dynasty in the early '80s are likely to be something less than a coincidence!
Rich has previously been inducted into both the Tilton School and Boston University Halls of Fame. Tonight, at long last, we reclaim him as one of our own.