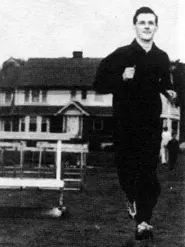 There have been only two dynasties, in the true sense of that word, in the last century of athletics at Watertown High. We are in the midst of one, in field hockey, punctuated by Coach Eileen Donahue's seventh state championship last fall. The other just as impressive, came about on the track, in the field, and across country in the late 1940s and 1950s: For a decade and a half, under the tutelage of Arthur Perkins and Bob Gleason, the Watertown High harriers were practically unbeatable- indoor outdoor, long distance or short. The 1958 team has already been inducted; but those squads were laden with too many state titlists and record holders to even start to list here.
However one such, deserving of immediate recognition, is middle-distance and relay star Richard Bartley. Dick Ieft Watertown High having been part of teams that won three state cross-country titles, three state outdoor titles, and three state indoor titles (including the aforementioned 1958 team's championship, Watertown's eighth overall, which set a new record for points scored – over three times the normal winning total, with six first and three second placements out of ten events). He was a member of the top-ranked relay team in the nation, which also won three state titles.
Dick's track experience began when he was discovered by Coach Gleason after running, as a ninth grader in the Moxley Road Race. He was eager to join Gleason's team. "Of all the people who have influenced me in my life," he noted recently "my parents and Bob Gleason were the most influential." Superintendent of Schools Francis Kelly was a great booster and so was WHS principal Tom Blake; both had run for Watertown in their younger days. But it was Gleason who set the tone. He knew how to handle personnel and drove them to perform at their peak; he formed them into a team. As state phys-ed czar Ralph Colson noted with regard to the 1958 champs, "I've been close to this…since the first state meet forty years ago…. and in all this time, I've never seen a team with such terrific balance."
Still, even the greatest coach needs some talent to work with. And with that the WHS harriers were amply stocked, given the presence of Jim Gleeson, Ron Young, Mike McLaughlin, and Hall of Famers Jay Luck and Nick DeNitto. "You knew there'd be someone who'd perform. That gave us confidence," Dick recalled. But it was Dick himself who frequently played that role. As a sophomore, he ran the 800, 440, and relays, and ran on Watertown's Penn Relay squad. As a junior, he competed in the 600 and 1000 yard runs, winning all his league contests and winning a silver medal in the 600 at the state meet. As a senior, he turned that silver to gold, and added a triumphant leg on the relay squad. That team went to Madison Square Garden for the national championships and finished an astounding fourth – the top performance by a public school in the country.
Dick went on to Brandeis and captained the Judges' cross-country squad. He also gained an interest in coaching and officiating. Soon after beginning his teaching career in mathematics in the Watertown school system, Dick coached the track team at the junior high level. The team had several undefeated seasons in the Middlesex League, and Dick moved on to assume the head coaching slot in Belmont. In six years there, his squads won a number of individual championships and two state relay titles.
Dick's business career has been very successful; but he has also devoted a good deal of his time to working for the sport of track and field. After leaving Belmont High, Dick became commissioner of track officials for the Middlesex League, a position he still holds. Indeed, over the past few years Dick has become a star official on the broadest of national and international stages. He's officiated some of the most prestigious meets in the country, from the Boston Marathon to the NCAA National Championships to the USA Track & Field Championships to the 1996 Olympic games in Atlanta. He served as president of the Massachusetts Track & Field Officials organization and as clerk of the two latest Olympic trials; and he will officiate the Goodwill Games and the National Masters Meet later this summer.
All in all, then, Dick has striven to give back to the sport what it has given him, and more besides. The Hall is proud, in turn, to give back the recognition he so richly deserves.