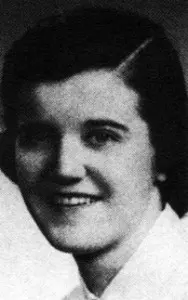 F.Hockey, Basketball, Tennis
Phyllis McBride could be called a pioneer: through her consistently sparkling performances, she ensured that women's sports at Watertown High would get the attention they deserved. She starred at basketball and tennis each of her three years at WHS. And she was a field hockey standout as well, captaining the 1950 team that went undefeated, foreshadowing the dynasty of the late 1980s.
Phyllis was above all a leader and a teacher, on the field and off, truly dedicated to the high ideals that athletics can and should embody. And so, after her graduation for Boston University in 1955, it was no surprise that she went on to be a teacher for real. She taught physical education for thirty-five years, first at Walpole High School and then at Salinas High School in California. In 1964 she came back to Massachusetts and taught in the Newton school system for over twenty-five years. She also coached field hockey, tennis, basketball, softball, and golf – testament to her versatility as well as her mentoring skills. She seems to have been that rarest of teachers, one who could inspire as well as guide; witness that in only her fourth year of teaching, the Walpole High School class of 1959 dedicated their yearbook to her, thanking her for "teaching us the true meaning of sportsmanship."
Phyllis stayed active in athletic and professional organizations during her career, and lived on Chauncey Street in Watertown until her death in 1990. She is sorely missed.