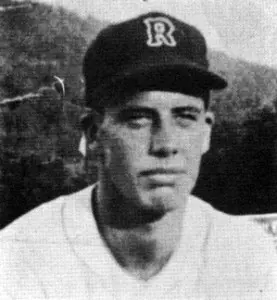 Football, Basketball, Baseball
"Stackpole is good all the time," it was written during his minor league baseball career.
"But there are times," the reporter continued, "when he is just out of this world."
That didn't surprise anyone who had followed Phil's career at Watertown High, at Boston University, and at Brandeis. A star in football, basketball, and baseball- he received scholarship offers from major colleges for all three sports ~ Phil had storied talents and legendary versatility. He quarterbacked Joe Zeno's first team, leading the underrated Raiders to an 8-1 record. He was a basketball All-Scholastic, leading the Suburban League in scoring, coming within five points of setting the League record after lighting up Woburn for forty-three with his "superior speed and excellent shooting eye." And he was an All-Scholastic catcher, outstanding both at and behind the plate as he led the Raider nine to the second round of the state tournament. Not surprisingly, Phil won the 1950 Hoyt Thurber Award as his class' Best Athlete.
Phil received a basketball scholarship to Boston University and was a multisport star for the Terriers his freshman year. On the diamond he was hailed by coach Walt Anderson as "one of the best catchers to play for B.U. since Mickey Cochrane," resounding praise indeed. Moving to Brandeis, Phil continued to shine. Sought after by a variety of major league clubs, the hometown hero signed with the Red Sox.
After a year in the minors Phil's career was interrupted by the draft, and he joined the Army in Korea. While enlisted, Phil was All-Army in baseball, All-Pacific in football, and a basketball All-Star to boot. And upon discharge, he returned to professional baseball at AAA Louisville.
During his minor league career, Phil also played at Red Sox affiliates in San Jose, Roanoake, Greensboro, and Albany. While at Greensboro, pitching legend Satchel Paige was scheduled to join the squad for a game, which Phil would have caught. But, alas, rain intervened and the game was cancelled.
Retiring from baseball, Phil spent much of his professional career in the sporting goods industry. He was national sales manager for the Hyde Shoe Company and later with industry giant CCM, handling promotions with major league baseball and professional football teams. With his wife Alice (a WHS classmate who was, it should be noted, named "Class Wit"), Phil has raised six children and is now involved in the real estate business in Winchester.
Reading over the clips from Phil's career is a leap from one superlative to another. "Great playing and quick thinking," reads one endorsement; "star of the season," reads another.
In one basketball game Phil scored thirty-two points in only three quarters – "Just think," his coach said, "Just think if he played the whole contest." Well, after. Some thought, we have an idea of what Phil would have done. It's what he did do throughout his playing days, and through his classy professional career: he succeeded. And it is for his successes, on the ball field and in life, that we are honored to welcome Phil into the Hall tonight.