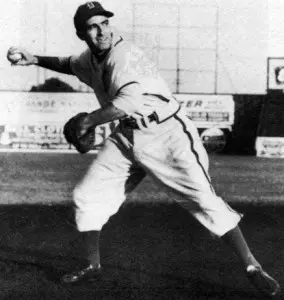 Baseball, Football, Soccer
Oscar Khederian was a star in several sports at Watertown High, and went on to enjoy a successful minor league baseball career. In high school, he played football, soccer, and baseball. He was a starting halfback as a sophomore, and also returned punts – despite his playing weight of just 125 pounds! He was elected captain of the 1938 football team and also played on that year's 11-2 soccer team.
Baseball, of course, is where Oscar truly stood out. He was named an All-Scholastic by the Boston newspapers his first year at Watertown High, as the 13-0 team went to the state tournament. He was also All-Scholastic his junior year, and was elected team captain in the spring of 1939. He went on to hit .495 for a 20-4 squad that went to the state finals, and was selected as the statewide All-Scholastic captain. Despite his slim frame, Oscar hit not only for average but for power, clearing the distant left field fence at Victory Field in several tight games. He went on to Northeastern University and was again team captain his senior year.
After a stint in the Army Air Corps from 1942 to 1946, Oscar was signed by the Boston Braves. He played for nine years in the minor leagues for the Braves and the Cincinnati Reds – including stints with major league Hall of Famers Frank Robinson (in 1954) and against Hank Aaron (in 1953) in the South Atlantic League.
Oscar retired from baseball in 1955 and went to work at the B.F. Goodrich Company in Watertown, where he stayed until the plant closed in 1969. He then went to work at the Watertown Post Office until his retirement in 1987. As he puts it, "I have been blessed." The Hall feels the same way about his presence.