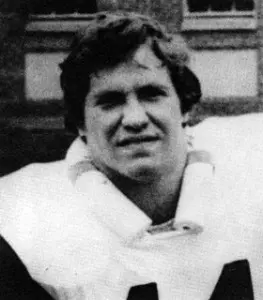 From the East Junior High track team to Little League to the Victory Field flag football league, Orazio Lattanzi truly grew up in Watertown sports. Coached by such notables as Phil Greenough, Arthur Sarkisian, and athletic legend Paul Basile. Orazio led his Pop Warner team to two Middlesex League championships and to the title game for the Eastern League championships and to the title game for the Eastern Massachusetts Championship in 1972. It was a sign of things to come.
Orazio hit the ground running – or, more accurately, ran onto the high school gridiron hitting! He starred in football and in track, a two-way starter on the freshman football team who led the junior varsity the next year to a Middlesex League title. On the varsity he was again a two-way starter at guard and defensive end, a Middlesex League first-team All-Star and a Globe and Herald All-Scholastic, a starter in the Harry Agganis Memorial. All-Star game at the Manning Bowl in Lynn, and the team's co-MVP.
Ever consistent, with more than twelve tackles per game, Orazio rose to the occasion for big games. In 1974, the Thanksgiving football game against Belmont had loomed with the Marauders as heavy favorites and Super Bowl hopefuls. But a local scribe gushed that Watertown, quarterbacked by Hall inductee Chuck Laurie, "played near perfect football and turned in one of the genuine upsets of the long series," winning in Belmont for the first time in fifteen years. Playing with a badly-sprained ankle, Orazio played both offense and defense and was highlighted as one of the game's stars, "all over the field making key plays:' The next year Watertown beat Belmont again, 18-0, with Orazio owning the defensive line; he was later named the first recipient of the '68 Alumni Club's award to the Thanksgiving game's Outstanding Lineman.
After graduation from Watertown High in 1976, Orazio earned a scholarship to Lawrenceville Prep near Trenton. He spent the year dominating New Jersey as thoroughly as he had dominated Massachusetts, named to the New Jersey All- Prep football team as both an offensive and a defensive player, tabbed as Defensive Player of the Year by the Trenton Times, and named team MVP. For good measure, he placed third in the state wrestling championships. And Orazio starred academically too – though wooed by a variety of major college football programs, he chose to return home to Harvard.
There, he continued to shine. He was a varsity starter for three years and was a formidable force on the line. His junior year Orazio replayed his Watertown-Belmont days by playing exceptionally well in a 22-7 Harvard upset over heavily-favored Yale in "The Game:'
In 1980 Orazio capped his career in style as the Harvard-Yale game was broadcast as ABC's "Game of the Week." Harvard lost – but Orazio did get to say "Hi Mom" on national television! Away from the camera lights, Orazio was AII-Ivy, All-ECAC, and All-New England. He won the Joseph E. Wolf and Carl W. Shuette Awards as Harvard's outstanding lineman. Legendary Harvard coach Joe called him, "one of the most intense and consistent players to ever be a part of the Harvard Football program." High praise, indeed.
After graduating from Harvard in 1981, Orazio went into the financial industry and is still in Watertown. He is now an investment executive with PaineWebber and is pursuing his MBA part-time. From the Sons of Italy to the Elks, he has stayed involved, for he knows the value of community and of teamwork – witness the inscription on a recent photo of his Watertown High squad, which has an annual reunion in honor of Coach David Hughes.
"High school football makes demands – plain hard work, discipline, and cooperation – that many kids never encounter in life. They graduate and go to work or school and it's every man for himself. That's why guys remember their high school team so fondly."
For that ethic, and for his achievements, the Hall returns that fondness and honors Orazio tonight.