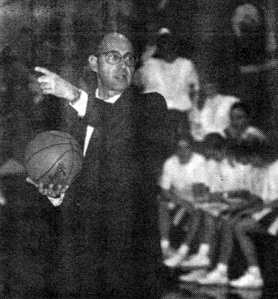 Basketball was my worst sport, but my first love, says Nick Papas, Jr. We might quibble with the first part, but not the last. I knew very early on I wanted to be a basketball coach, he adds; and in following that dream over twenty-five years and more, Nick has shared his love of the game with literally thousands of young people. And they have taken away something special. He has taught them not only how succeed on the court, but in the rest of their lives. And for that – for his work with youth, for his impact not just on Watertown but on his chosen sport as a whole, the Hall is happy to take special recognition of Nick's career this year. Nick grew up on Marshall Street, when he wasn't next door at Victory Field in the town's recreational programs, WHS great Bob Norton was his park instructor and Nick was water boy on Norton's Hall of Fame 1960 team. Nick's father legendary teacher Nick Sr., coached him at the Phillips School. Another mentor was Dave Hughes, a longtime coach and teacher at WHS, now at Hopkinton High as head football coach.
Nick was a three-sport athlete at WHS, earning nine varsity letters and winning an array of awards, including the Hoyt Thurber trophy as his year s most outstanding athlete and runner-up status in a statewide Elks scholarship for Massachusetts student-athlete. He was a small forward on the basketball court, but as his comment suggests, in high school his greatest successes came elsewhere. He was an All-Middlesex League middle infielder and solid Legion player for example. And in football, he was named by both the Globe and the Herald as "a player to watch" playing both ways at end, cited three times in the 1968 season as the Raiders' player of the week. He went on to start at defensive end for Division II Springfield College's freshmen football squad, which went undefeated for the first time ever. And he was a key defensive cog for the nationally ranked Springfield varsity eleven the next season. In an intriguing twist of fate, when Springfield played Northeastern, Nick lined up against Victor Palladino, Jr., who centered the Huskies' offensive line.
All the while, even in high school, Nick was involved in youth sports; convinced of the key role they could play in the wider community. He was a park instructor in the Watertown recreation department, a basketball referee for the elementary league, a baseball coach for the Town League. In 1971 and 1 972 he was head coach of a Longmeadow Pop Warner team. And by 1972 he had already become JV coach of Winchester High School's basketball squad.
After graduating from Springfield with his B.S. in physical education in 1973 (he added an M.Ed. from Fitchburg State in 1978), Nick spent a year coaching high school basketball in Montreal, creating a team for a school that had none. In 1975 he came back to Massachusetts to coach at Minuteman Regional High School in Lexington, once more initiating an entire program. And here his success as a teacher came to the fore: after a 6-14 record during Minuteman's first year of varsity competition in 1976-77, Nick's charges went 14-7 the next year en route to the divisional quarterfinals in the state tourney. They would return to the tournament five of the next six years. Nick was named coach of the year by the Massachusetts Coaches Association in 1981.
In 1984 Nick went to Melrose High School and continued his winning ways. In 1986-87 Melrose qualified for the Division I tournament for the first time in fourteen years. Just two years later they were regionally ranked by USA Today, going 18-0 in Middlesex League play, rolling all the way to the state division finals before falling to Cambridge Rindge and Latin and finishing at 21-2 overall. Nick was the Globe's "coach of the year" in Division I, earning like honors from the Middlesex League and Massachusetts Coaches' Association too. Space does not allow a full listing of Nick's coaching honors, but the accolades piled up – because so did the wins. Melrose returned to the tournament eleven years in a row through 1997 – marking 20 straight years over .500 for teams Nick coached – peaking at a #15 statewide rank after its run to the sectional finals in 1996. His record stands at 340-172 (a .664 winning percentage) across a quarter-century of varsity coaching. He's the winningest all-time coach at Minuteman and Melrose, and is hoping to repeat history in his current post at Burlington.
High school coaching, though, was only a part of Nick's commitment to basketball and the young people who played it. He's long been active in the Massachusetts Basketball Coaches Association, the National Association of Basketball Coaches, the Bay State Games, and the MIAA tournament committee. Since the 1970s he's been teaching at a wide variety of camps and schools, from the New England Basketball School in North Easton to Dave Cowens School in Weston. He's run the Fast Break Basketball School at Melrose High since 1984 and the Minuteman Mustangs School in Lexington for twenty-five years. In fact, he remains head of the physical education and health department at Minuteman. Nick has been active locally (he's still president of the famed 0-9 team's alumni club). He's been a national figure (for seven years has been volunteer assistant at Nike's All-American Basketball Camp in the Hoosier Dome). And he's even been an international ambassador of sorts (he taught basketball clinics in Belgium in the late 1970s and worked at the 1987 Pan American Games in Indianapolis).
All this adds up to an outstanding record of service to many communities. The best player on Nick's old Springfield squads was quarterback Gene DiFellipo who now serves as now athletic director at Boston College and helped turned around the Eagles program. Nick Papas is an outstanding person, a person who is committed to the benefit of our youth, notes DiFellipo. "Many youngsters have had the good fortune to be taught or coached by Nick. They are better people for this." The Hall can only concur.