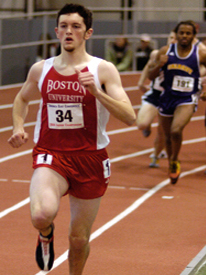 Nick Goodman, '03, never ran track at WHS until the spring of his sophomore year. "Try it. You'll like it," his dad told him for a couple years. Even his JV basketball coach told him to "try it. You'll like it." So, he tried it, and he never looked back. Actually, Goodman didn't have to look back, because no one could catch him. Nick was truly a 3 season track superstar, one his Coach, Tom Wittenhagen, calls "the best runner I've ever coached and I've coached over 1,500 of 'em."
After that 1st season of outdoor track, he was named a Middlesex League all-star, the 1st of 6 straight seasons with such honors. The 6' 2" powerhouse would have run the table and had 7 total for his career had it not been for an injury during his senior spring season. Wittenhagen further explained that "the seniors came to me very early in pre-season and asked, who is that?" when talking about the runner who blew them away on the track.
The 1st time he tried running a mile, he did it in 4:48. By the time he was a senior Goodman cut his time by an incredible 15 seconds down to 4:23. Goodman was a natural, but humbly stated that "I was only looking for something to excel at. I wasn't very good at soccer in the fall or basketball in the winter, so I figured I'd give running a shot." He 1st ran cross country the fall of his junior year. By the time his senior year rolled around, he was so dominant that he never lost a League race, and was the Class "C" State Champion. Similarly, he 1st tried winter indoor track as a junior. As a senior in the winter of '02-'03, he was named a Division 4 All-Star, a Globe All-Scholastic as the top 1000 yard runner in the State while setting a school record of 2:30, and earned All-American status in the mile while placing 5th at the Indoor High School Nationals, and set another indoor school record with a time of 4:17. Goodman was the 1st All-American in the 67 year history of the sport at WHS. In outdoor track the spring of his junior year, Nick set the outdoor school record in the mile with a time of 4:23 and placed 7th in the All-State meet.
Upon graduation, the dynamic Goodman took his diverse talents to BU, where he earned Rookie of the Year during his 1st foray in indoor track. In the fall of his junior year, he was the MVP of the Terriers Cross Country team. As a senior, he helped set the still standing BU school record in the indoor distance relay. Nick Goodman excelled indoors, outdoors, and was adept at several different distances. He was multitalented, and extremely driven. A true 3 season wonder.