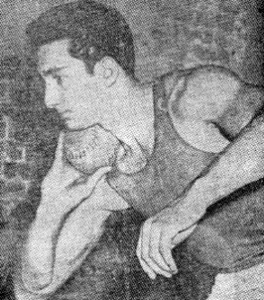 Nick DeNitto's interest in track and field was sparked early, intrigued by the primal challenge of one-on-one competition in events whose origins predate antiquity. While still in junior high school, he proved his mettle, winning the shot-put and high jump events at a town wide meet. Shot-put world record holder Parry 0'Brien's unorthodox style soon caught his eye, and he worked to emulate it. And in turn, when Nick's family moved to Watertown in 1953, the young athlete caught the eye of fabled track coach Bob Gleason. Under his watchful eye Nick blossomed into a legend for some of the greatest track teams that Massachusetts has ever seen, squads that won both indoor and outdoor championships with wondrous regularity. "Watertown's track supremacy looks as if it will go on forever," extolled the Boston papers, and Nick was key to that judgment.
A weight lifter and gifted all-around athlete, Nick was not only strong but fast, a consistent medalist in the 100- and 300-yard dash events and part of a record-setting relay squad. He was a standout on the gridiron as well, tabbed as a "surefire" college football recruit at fullback until a head injury derailed his high school career in contact sports. His full attention turned back to track and field; smart and hardworking, elected senior class president, he wanted a shot at a college education. And, as the Globe noted after one meet, "if yesterday's performances are indicative, big Nick is making it, indeed."
Shot-put is one of the toughest branches of athletic competition, a lonely battle of strength and technique. But Nick followed a tradition of great shot-putters at WHS, from Ron Guittar and Dave Foley, to Gene Renzi, Larry Cafarella and Carl Johnson. He would soon surpass them all. After a stunning performance in the state meet as a sophomore, the media raved that Nick's "excellent exhibition attracted wide attention . . . He gives promise of developing into one of the outstanding competitors in the state."
That promise was soon fulfilled, as Nick seemed to break records every other week. In January 1957 – coached by Larry Cafarella – he broke Cafarella's 1952 state record throw by over two feet. A week later, he added another two feet to the record, running it to 55 feet, 4.5 inches, a mark that would stand for a decade. The press called him "a schoolboy howitzer" and at least once, "Superman"! It was well noted, too, that Nick had uncorked some massive throws in practice – one was measured at an astounding 58 feet.
To tally Nick's wins and achievements would fill the page, and overrun it (his javelin skills, for instance, have been ignored completely so far). Some highlights, though, must be noted. Between the shot-put and the relay, Nick won more than half a dozen state titles and league medals, setting state records in both events; in 1956 he placed sixth in the national schoolboy championships in New York and, the next year, won the New England Championships title in the shot-put. At a Brown University schoolboy meet he ran the 220 in a record time just two seconds off the contemporary world mark. He was captain of both the indoor and outdoor state championship teams, squads proclaimed by track guru Ralph Colson as the best he had seen in forty years around the sport. Sal Ciccarelli, then a sophomore, remembers Nick making the turn on the 220 like a runaway locomotive," and recalls that Nick's dedication and commitment were an inspiration that helped mold a talented group of athletes into a true team. Coach Gleason noted in turn that "all in all Nick DeNitto adds up to quite an athlete. He's a good student, a gentleman, and an excellent leader."
Nick went on to Boston University as a trackman and returned to the football field as well, starting at fullback on the undefeated freshman team and making the varsity squad at running back and tight end. After his college career was interrupted. By a year of active duty in the Navy following the 1961 Berlin crisis – spent in the North Sea on a destroyer patrolling for Soviet submarines – Nick returned to the safer confined of BU, rejoining the varsity football squad as starting tight end and defensive end and throwing the shot and the javelin for the track team. He graduated in 1964 with a Bachelor of Science degree in business management, and went on to the New England Electric System (NEES) Companies, where he still works. Having put himself through law school at Suffolk University, Nick is now trial counsel for the NEES Companies, specializing in civil litigation.
Nick also stays active in community events; as he notes, he has a "keen interest in serving others in that area." He has been involved for more than twenty years with the Merrimack Valley YMCA, first as a volunteer instructor for fitness and weight training, then as a branch board director and chairman, and now as president and chairman of the YMCA board.
And Nick still prefers the playing field to the courtroom. Witness his great performance in the Massachusetts Senior Games in 1994, where he medalled in four events and qualifying for the 1995 National Senior Games in San Antonio. There, last May, he proved his skills were still very much intact, taking a bronze medal in – what else? – the shot-put competition, against a field that included former national decathletes. He's in training now for the 1997 Senior Olympics in Phoenix. And the Hall would not be surprised to see Nick DeNitto in a familiar position come the awards ceremony: on top of the podium, a medal around his neck.