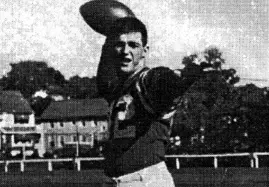 Football, Basketball, Track/Field
Boston Herald scholastic sports guru Ralph Wheeler wrote in 1957 that "Mike B McLaughlin is just about the outstanding schoolboy athlete of New England. He stars in football, baseball, basketball, and track, and I mean 'stars.'…If there is a more versatile athlete or better competitor than Mike, I haven't seen him."
Consider the evidence, season by season, merely of Mike's senior year of 1956-57. He quarterbacked Vic Palladino's 7-2 football squad (good for 3rd place in the state in Class B), including a 43-20 rout of defending CIass A champ Brookline. In that game Mike merely scored two touchdowns, including one on 80 yard run. He was the outstanding player in a 21-6 Thanksgiving Day win over Belmont. His passing for the season was "perfection itself," crowed one newspaper; opposing coaches could only grouse that "McLaughlin has made all the difference in the world to that team." Mike rounded out the year as starting QB, and team MVP in the Harry Agganis Memorial All-Star Game, picking up 77 yards on 8 carries – not to mention an 84 yard run from scrimmage, called back on a penalty.
A local columnist noted that "we often wondered how much steam he could get up if unburdened of all that football gear" – he soon found out. Mike was undefeated in the 50-yard dash during the regular season for Bob Gleason's harriers, took the state title, and tied the event record at the BAA Meet against all-New England competition. At the national AAU meet in New York, he placed third – and had matched the eventual winning time, 6.5 seconds, in winning his semifinal heat.
Shifting to the baseball diamond (while helping out on the track whenever possible), Mike gained notice as the "fastest schoolboy player in the state," swiping home three times to go along with a .368 batting average and outstanding defensive play at catcher second base, shortstop, and center field, where Ralph Wheeler commented that "I have seen him make catches that would reflect credit on Jimmy Piersall." His left-handed stroke powered at least four balls all the way out of Victory Field and the Raiders to the top of the Suburban League.
Oh, and along the way Mike was co-captain of the basketball team and that squad's high scorer.
In a year and a half, then, "Iron Mike" earned five varsity letters and was voted Watertown High's "most athletic" 1957 graduate. For good measure he starred in the drama dub's production of Leonard Bernstein's "Wonderful Town." And he earned a full athletic scholarship to the University of Dayton, where he would star on the freshman football team.
So far, a typical Hall of Fame tale of sporting glory. But the lush Bernstein score is not the most appropriate soundtrack for the Mike McLaughlin story. That story is, rather, one of athletic brilliance overlain on simple survival – and, eventually itself overlain by redemption.
Mike grew up in Somerville. His mother was gone most of the time, his dad a drunk. Today the Department of Social Services would be at the door; instead, Mike lived on the playing fields, taking out his anger on the competition. Anything, not to have to go home. He started drinking at age twelve. His occasional, tentative pleas for help never seemed to get anywhere. But he was already a legend as an athlete. In 1955 at Somerville High he singlehandedly beat undefeated Waltham High on Thanksgiving Day, scoring both touchdowns (one on a 101 yard kickoff return) in a 13-0 stunner
Help came from Watertown, when his cousins the Shannons took him in midway through his junior year. Like a comet, he streaked across the athletic firmament, running up the achievements recounted above. The community defended him when some scrapes from Somerville caught up with him. Coaches Gleason, Palladino, George Yankowski, Jim Sheehan, and WHS headmaster Tom Blake formed a tight network of support. "It was the most normal, best year of my life," Mike recalls. And things seemed to be turned around.
But after his freshman season at Dayton, Mike injured his back and fractured his shoulder in a trampoline accident. His athletic career was over. And soon he traded the classroom for the barroom.
For a decade, Mike lived in saloons on the fringes of Somerville's Winter Hill wars. When sober he held a job, and had a wife and two kids. He drank them away. And by 1967, he was literally on skid row. He panhandled, lived in a Harvard Square cemetery, shuttled in and out of state "treatment" facilities. A wonderful town, indeed.
And then one day -August 29, 1970- something happened. Mike himself isn't sure exactly what. He had tried to stop drinking before, after all. But that day he had what he calls a "spiritual awakening," a realization that "there must be something left to do." There was; there is.
Today Mike has been sober for nearly thirty years, retired from a solid career as general manager at a car dealership. He has reconnected with his family. He is active in twelve-step groups and tells his story whenever he is asked, before gatherings of hundreds and audiences of one. His hope is to give hope, to tell the desperate that change is possible, that they too can turn their lives around.
We often talk about the redemptive nature of sports, but redemption in real life is a trickier business. Mike McLaughlin found glory on the playing fields, his achievements so remarkable as to put him in the Hall of Fame. But his most treasured victories were longer-term and harder-won. He has survived the streets of Somerville, a premature end to his playing days, an addiction to alcohol, an aneurism, and two quadruple bypass operations – a decade ago his doctor told him "you're still with us, but I don't know how."
Surely how is less important than why. And the answer to that one just might be relatively simple. Because there is still something left to do.