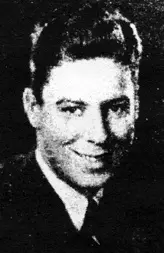 William "Mike" Calden is one of the Hall's few inductees from the South Side of Watertown. This has little do with the caliber of athletic endeavor on that bank of the river, but merely reflects that fact that a large number of South Siders ended up at St. Patrick's High School instead of wearing Raider red. Even quick reflection brings to mind the names of some St. Pat's standouts who might well have excelled at Watertown High – Dave Nagle, Joe Guden, Jimmy Devaney, Chuckie Lenaghan, and the Timperio brothers are just a few examples, not to mention great gridiron coach Bill Sullivan.
Mike, too, started his career at St. Pat's before transferring to WHS before his junior year He had always loved sports, and spent most of his youth at one playground or another as pitcher and outfielder.
Mike arrived at Watertown High an unknown, but didn't stay that way for long. The Raiders needed pitching, with ace Lefty McHugh having been declared ineligible when he turned nineteen. So Coach Dan Sullivan figured he'd take a look at the new guy. In Mike's first game against Durfee, Sullivan figured he'd aim to get three innings out of his starter- instead; Mike rang up a complete game shutout, complete with twelve strikeouts.
That performance was echoed and amplified as the season continued. Mike won his next game against Winthrop with another shutout. In a game against Brighton he relieved a struggling starter in the second and fanned twelve to pick up the win (adding three hits for good measure). Against Athol, the defending state runners-up, he fanned twelve more in a 4-1 win. And against state champion Brockton, Mike took a no-hitter into the eighth inning, adding a key RBI before finishing with a two-hitter and a 3-1 win.
That junior year of 1939, the team – one of Watertown's best, studded with such greats as Oscar Khederian, George Yankowski, Bill Kearns, Matty Keefe and Fred Antinarelli – got off to a 13-1 start en route to a berth in the state championship game at Fenway Park. The Boston papers dubbed Mike the "pitching sensation of the year"; he wound up with eight wins and a 2.41 ERA, striking out 90 and allowing just 51 hits in 74 innings. The Boston Post dubbed him "a youngster who came from the blue to skyrocket into the limelight as one of the most promising mounds men in years at Watertown, and that's saying quite a lot." He was a Globe and Post first team All Scholastic, lauded for his ability to put across that "'where-is-it-ball' when strikeouts have been most needed." Coach Sullivan had expected 1939 to begin a series of "character-building years"; instead, these were the glory days of Watertown baseball. Indeed, in 1940 Mike would repeat his All-Scholastic performance for another standout (20-4) Raider squad.
Over the summers, Mike pitched for the Watertown Independents of the Greater Waltham "Twilight" League. He continued to impress most prominently throwing a no-hitter against Notre Dame of Cambridge, losing a perfect game on a lone seventh-inning walk. In the league's All-Star concept, he struck out an astounding (and astounded) nine batters in a three-inning stint.
Mike also displayed his athleticism on the gridiron. "Just as he was a surprise to baseball fans when he made his debut in that sport last spring and became an all-scholastic pitcher," a Boston reporter detailed, "he was a sensation to more than 3000 football enthusiasts as he brought the WHS eleven from behind" in the 1939 season's first game against St. Mary's High of Waltham. In his first scholastic football game, Mike "fired air bombs with all the atheism and finesse of a polished veteran," completing 11 passes.
After graduating from Watertown High, Mike joined the Air Force during the Second World War as a mechanic on the European front. Currently he lives in Tiverton, Rhode Island, having retired there after thirty-five years at the telephone company.
As his old battery mate George Yankowski recalls, "Mike made it a pleasure to be a catcher. He had a great curve and blazing fastball a good pitcher makes a team look good." Mike was more than good. And so the Hall is happy to bring him back to his old haunts-and to begin filling its South Side wing.