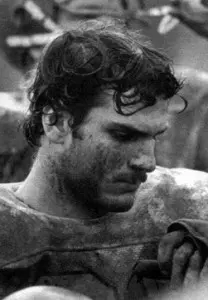 Sometimes it is the shortest lives that have the biggest impacts. Such was the case with Michael Avtges, who will now be forever immortalized in the Watertown Athletic Hall of Fame on May 9.
However, those who knew Avtges will tell you an induction like that isn't necessary for him to be remembered forever. Just knowing him took care of that.
A 1980 graduate of Watertown High School, Avtges not only created a lot of memories with his stellar play on the football field but off the field he was just as recognizable.
"He was a special player and a special person, "former Watertown High head football coach John Barbati, who walked the sidelines for the Raiders from 1969-1992, said. "He was among the most likable and most respected players I have ever had."
The likable part came naturally as Avtges personality could light up any dark room but his respect was earned by the way he challenged anything that was thrown his way. Avtges, who played for the Raiders for three seasons while starting on both sides of the line in 1978 and 1979, was easily voted one of the co-captains his senior year.
"That vote was unanimous," Barbato said. "He was an outstanding leader just by the way he played the game. He was not only very talented but no one could give a better effort than him. He gave everything he had every time. The one thing I will always remember about Michael is that he always had the dirtiest uniform of all the players. But I tell you he loved the game like no one I have ever seen. No matter how muddy he got, his smile always came through the mud."
Throughout his high school career on the football field Avtges racked up many accomplishments. He was part of the undefeated 1977 team as a sophomore, was a Middlesex League All-Star, was named Waltham News Tribune All Scholastic, was twice given honorable mention by the Boston Globe for Player of the Week, and was recipient of the Outstanding Leadership Award. However, despite all those things it was mainly his grades that earned him the honor of being accepted at Tufts University where he became a freshman in the fall of 1980.
"An outstanding trait Michael had was that he was able to budget his time so that he was able to study, participate in sports, go out with his friends, and listen to music, "his father Nick Avtges said. "
Avtges, who would succumb to Leukemia at age 26 on May 4, 1988, was diagnosed with the disease shorty after beginning college, but not before having already touched many fellow students and fellow Jumbo football teammates lives. That was more than evident when he was preparing to leave his Watertown home for the Frederick Hutchinson Cancer Center in Seattle for treatment. There weren't just three or four people coming by to wish him well. It was more like a hundred.
"That was a very moving evening," his father recalled from that night in October of 1981. "Mike spoke to them and told him he was very grateful for their support and prayers. That night the team told him they were dedicating the season to Mike and they ended up winning five games. (5-2-1)."
His teammates from Tufts still remember him fondly to this day and still get emotional thinking about him. His sister Suzanne, the oldest of the four Avtges kids (two other younger brothers Nick Jr. and Chris) who was Michael's bone marrow donor, recalls meeting someone who knew her younger brother. As a Biology teacher at Mashpee High School, Suzanne was participating on a committee for the Mass Dept. of Education that was developing the Biology MCAS test when someone from the group asked her if she was related to Michael.
"When I told him I was, he told me he played football with Michael the year he was diagnosed with leukemia," Suzanne said. "He then started breaking down in tears. He told me what a great person he was and how much he admired him. He also remarked on Michael's courage and recalled when he spoke to the team at the end of his last game. He told me there wasn't a dry eye in the house and that he impacted so many lives."
That teammate was Ron Fusco, now a science teacher at Shawsheen Valley Technical High School in Billerica, who says his memory of Avtges will never leave him.
"He was a very tough player and one of the best we had," Fusco recalled. "When he got sick it was a shock to all of us but he had tremendous courage. He was quite an inspiration to the entire team."
During his courageous battle, Michael began losing his eyesight resulting in a change in his college major from Civil Engineering to Computer Science but he always stayed positive and continued living life to his fullest.
"The way he dealt with his sickness is the one thing that will always stick out about him to me" Tom McManus, a close friend of Mike's since they met in junior high and currently a Watertown firefighter said. "I'm thrilled he is going to be a member of the Watertown Hall of Fame. He deserves to be there for what he did as an athlete but more so because of the way he was as a human being. His courage was remarkable. He didn't let anything stop him."
Michael's father saw that same quality at the New England Patriot football games. As season ticket holders, they made the trip to Foxboro together several times.
"Even at the point where he couldn't' see and I had to explain things that were going on, he always enjoyed himself at those games," Nick said.
Nick and his oldest son were very close. Mr. Avtges took his son to cub scouts, camping trips, Little League baseball, Babe Ruth baseball (where Nick is still active 32 years later) and they even worked together making Pinewood Derby cars. Today Nick can show off his collection of those cars made by him and his three sons. Mr. Avtges can also vividly recall taking his son to intramural ice hockey.
"That's where I could see his competitiveness and toughness that eventually made him an outstanding football player," Nick said. "He then began playing football in ninth grade at West Junior High (now the middle school) where he also became captain."
Michael was also very close to his sister. Suzanne says they shared just about everything before her two other brothers were born. In high school they had different friends and interests but they still shared a close relationship.
"The thing I remember most about Mike is his interest in music," Suzanne recalled. "He loved playing Aerosmith and Bruce Springstein. He would dance through the kitchen singing "Walk This Way" often as a rebellious teen. Of course we became especially close when I became his bone marrow donor. It makes me feel real good that a part of me will always be with him."
Now that Michael is a member of the Hall of Fame, more and more people will become aware of what a special person Number 60 was and at the same time realize what living in Watertown meant to him and his family.
"We love this town and always appreciated how we were supported by a fundraiser to help us financially and prayers to help us spiritually, Nick said. "Our family is extremely moved by this honor and are comforted by how he is still remembered. Since May 4, 2008 will be the 20th anniversary of his passing it was a very emotional moment when we were notified of his induction."
When his sister Suzanne was asked what she thought Michael's reaction would be to his induction into the Hall of Fame she said that his brother would be humbled and say that he was not worthy of the honor.
No doubt, though, that he would be the only one to feel that way.