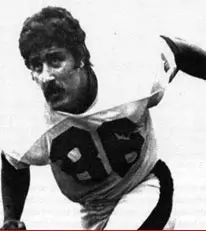 Mike Santoian grew up playing "Kill Donnie," which sounds rather nasty until you discover that the intended victim was Don Chiofaro, then-captain of the Harvard football team, and well able to withstand the assaults of a small gang of ten year old boys. "He threw us around like rag dolls," Mike remembers. If nothing else, it made him want to be a football player.
And a little later, he was. At Victory Field, Mike would soon give the rag doll treatment to a wide range of opposing players. Under coaches Tony Flecca and Billy McCarthy, he tried out for the freshman football team in 1968. The next year John Barbati came to Watertown High and the restoration of the varsity squad began; by fall 1971, the team won two-thirds of its games, its first winning season in a decade or more. Mike was a key part of that on the line, a Middlesex League All-Star and Boston Herald All-Scholastic. In one game against Reading he blocked three punts, a Middlesex League record. In the 50th playing of the Thanksgiving game versus Belmont, Mike helped "put Belmont's running game to shame" as Watertown's front four turned in "its best game of the season," as one local scribe noted. Later in the game Mike deflected a pass to Bob Poirier, who made it all the way to the Belmont seven-yard line, setting up a key score in a 28-6 victory.
He was equally successful on other fields as well, especially where the javelin and discus were concerned. Mentored by Bill Flecca and by seniors John Mooshigian and Hall of Famer Jay Luck, Mike learned the techniques of the field events from the best. His scores showed it: from discus throws of 120 feet to 130 feet and then one dizzying day past 140, earning an invitation to the state meet, where he placed fourth. In 1972 he won every discus event in which he competed except one – when teammate and fellow Hall of Famer Dom Lalli beat him out.
After graduation from Watertown High in 1972, Mike went on to the Winchendon School on a full scholarship. There he studied hard and played hard too, earning the school's MVP in football and most-improved award in swimming. He was recruited by a number of colleges and wound up at Northeastern, eventually earning a full scholarship and playing alongside friends like Manny Bougoulas, Rich Morrill, and Eddie Kasabian. After a strong minicamp in the spring of 1975 he wound up as the starting left defensive tackle, a job he never let go. He was game captain for a key matchup with Springfield and in 1975 won the team's "unsung hero" award for his work in the trenches.
Since 1979, Mike has worked for the Massachusetts Department of Correction, currently as a Lieutenant and the training officer for MCI-Concord. He's involved in the community as a Pop Warner coach, a church trustee, and a family man, thanks to his wife Kathy and children Michael and Lauren – themselves promising athletes.
Dom Lalli, who knows something about athleticism, once said of Mike Santoian that he "possessed a unique quality that was some magic combination of strength, speed, agility, and intelligence. I have been fortunate to have had him as a teammate and friend." This year, the Hall is fortunate to have him as a member.