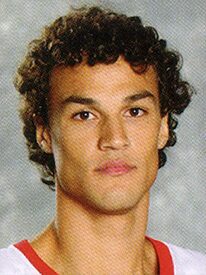 Maxwell Kerman competed hard in everything he did, whether it was on the football field or the basketball court.
He played three years of football and four years of basketball for Watertown High. In one football game alone, in a big win over Winchester as a junior, he contributed two rushing touchdowns, kicked four extra points and chipped in defensively with an interception, a fumble recovery and a half-dozen tackles.
But it was in the gym where everything came together for one of this year's class of inductees to the Watertown High Athletic Hall of Fame. The ceremony is Oct. 21 at St. James Armenian Hall, 465 Mt. Auburn St., Watertown.
By the time Kerman graduated in 2006, the two-time captain and three-time Middlesex league All-Star was the vaunted basketball program's all-time leading scorer with 1,522 points, all-time leading rebounder, third in assists and steals, and fourth in 3-pointers and single-season points. But, in reality, that is only just a small part of the Kerman story.
Hall of Fame Coach Steve Harrington described him as the "one of the most competitive athletes ever to go to Watertown High."
By the time he got to college at UMass-Lowell, head coach Greg Herenda said, "Max plays as hard as anyone I have ever coached. He competes on every possession for every loose ball and rebound. His defensive tenacity and athleticism makes it very difficult for whoever he guards. He could be one of the best overall players in our conference."
Like many of his predecessors, Kerman learned and played the game on the courts of the renowned Watertown Boys & Girls Club. As a 5-year-old, he remembers playing nerf basketball with Hall of Famer Casey Bracket. They were together only because Casey's mom happened to be Kerman's babysitter. He said he was proud to see players like Hall of Famer Bobby Murgo turn this town into a hoops haven.
In the early 2000s, Kerman said he thought "Watertown was like the NBA. No! Even better. It was 'Friday Night Lights,' but in basketball. I couldn't wait to play my part."
Harrington told us, "Everyone knew of Maxwell when he was coming up through the system. We knew he'd be physically ready to play basketball in the Middlesex League as a freshman."
In his first year, he was asked to cover the opposition's best players. This was a huge responsibility for a young player, but Harrington knew Kerman could handle the task.
By the time he was a junior, he was a Middlesex League All-Star and was voted team MVP. He was the total package – a true leader, who was both an offensive force and a beast on the boards. He was truly the next in the line of succession of great players for Harrington. By the time he was a senior, WHS would win the league title, and although the Raiders lost to Minuteman in the Division 3 North title game, the sting of the loss would dissipate in a year's time with a state title.
Kerman helped set the foundation for what would be a crowning achievement in Watertown basketball lore.
Kerman prepped a year at Bridgton Academy in Maine and continued his winning ways, leading the Fighting Wolverines to a league title. As a two-time captain at UMass-Lowell he helped lead the River Hawks to the NCAAs in both his sophomore and junior seasons. As a sophomore, he continued his beastly boards way and was named the Northeast-10 Defensive Player of the Year.