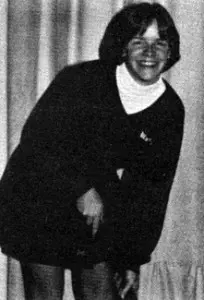 F.Hockey, Basketball, Softball
One imagines that the Duffy family, growing up, could probably field a pretty good team in any game the neighborhood cared to organize. But it couldn't have been too easy for Mary Duffy to compete with older sister. Sue, an outstanding multi-sport athlete inducted into the Hall last year. Somehow, though, we're not surprised that Mary not only survived but thrived. Tonight we are glad to welcome her into the Hall in her own right.
Mary played field hockey, basketball, and softball at Watertown High, a starter and star whatever the field of play. On the hockey pitch her senior year, she played center; was tri-captain of the team; ranked among the league leaders in scoring; was a Middlesex League All-Star; was team MVP; and helped lead the team to its most successful season to that date at 11-4-3, missing postseason play by just six-tenths of a point.
The basketball team, led by Mary and Hall member Paula Pomponi at guard, fared even better. Her junior year she was a key component to the "Cinderella Team" that went all the way to the state's division finals. The team won three tournament games – including a thrilling victory over 20-0 Peabody – and just fell short against undefeated Salem in the finals. The Boston Globe commented that "Watertown has left all opponents wondering what rock they forgot to look under."
The next year the team made the tournament again after posting a 14-4 regular season record. Mary scored twelve points per game and was in the Middlesex League's top five in scoring as well as a League All-Star. That year she was also captain of the softball team and recipient of several awards honoring her contributions to the high school – the Coach's Club Scholarship and the award as Outstanding Female Athlete.
Going onto Salem State College in 1981, Mary continued to excel. She captained the squad as the team won the Massachusetts championship and went to the NCAA Sweet 16! On the academic side Mary starred as well, graduating in 1985 with a degree in business administration. She presently lives in Saugus with her husband David and son Brian James, who will be eligible to join the Hall's Duffy wing sometime in the year 2022!
An appropriate close comes from Mary's long-term coach Phil Costello:
"In all my years of teaching, Mary was one of my all-time favorites; from elementary school on she was a standout. She was a personable and wonderful little girl who didn't change a bit. I followed her basketball career at WHS with great satisfaction as she directed the team with great maturity. To me she's the prettiest girl in the world."
No argument here.