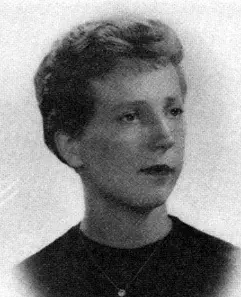 Basketball, F.Hockey, Tennis
"Linda was almost born into the world of sports," writes her mom; and this seems quite literally true. We might note even more precisely that Linda was born into the world of Watertown sports, heir to a splendid tradition that she would honor and extend. Her mother, Barbara, was a long-time teacher of English at Watertown High, and her late father Joe had a storied athletic career in his own right in Watertown – having starred on the playing field and later as a beloved coach for baseball, basketball, hockey, and football. The fame of the "Murphymen," as his various teams were known, had spread far past the town's borders.
Linda also had some help from her friends, or more precisely her neighbors. She grew up part of a Bradford Road crowd that played a wide variety of sports; she could always borrow a helmet, a shoulder pad, or a puck. But if the basketball hoop on the Murphy garage brought the crowds Linda's way, it was her fiery skills that made her a welcome competitor in the neighborhood tourneys. She was good enough to be sought out for whatever was the game of the day, contests played for keeps in the special way of games played only for pride.
These early interests and instincts were developed more fully as Linda grew up and entered Watertown High. "An all-around girl with lots of school spirit," said her yearbook of "Murph", attesting to her broad resume of activity and participation. Sports, of course, played a special part. Linda was a truly gifted athlete. She excelled in field hockey, in tennis, and at basketball as a three-year varsity star. On the court she was captain of the womens' squad, a leader to be reckoned with. An avid fan of the Celtics' Bob Cousy, Linda emulated his slick passing skills, often surprising opponents – and startling spectators – with a crisp behind-the-back pass. Not surprisingly, Linda's senior seasons were capped with her capture of Watertown High's trophy as the year's outstanding female athlete. No less a judge of athletic talent than Bob Norton dubbed her "certainly the best female athlete, and very possibly the best athlete, of that time. She combined three things to outstanding effect: a prodigious level of hustle and determination, a real sense of game smarts (whatever game she was playing), and of course a singular level of innate athletic talent."
All this would be impressive enough. But what made these achievements especially spectacular, and even poignant, was the story of personal triumph they embodied. For as an infant Linda had polio, a handicap that could only be overcome with hard work, gritty determination, strength of character and an outpouring of support from family and community. Her talent had to be wrenched out of the fierce grip of paralysis.
Her family was always there; her father, for instance, was legendary not only for his coaching but for his leadership of March of Dimes fundraising crusades. But it was Linda who wanted to play, and play well; and it is the strongest tribute to her character that she did just that. And more.
Indeed, like other Watertown luminaries such as Hall member Phyllis McBride, Linda was a pioneer for womens' sports. For through her consistently sparkling performances, she ensured that women's athletics at Watertown High would get the attention that they deserved.
That was true in high school and she has not relinquished the role of leader since. Throughout her career Linda has been a teacher, on the field and off, truly dedicated to the high ideals that athletics can and should embody. From Watertown High she went on to Springfield College and then to Lesley, where she received a degree in education. She taught in Milford, Connecticut and in Keene, New Hampshire, before settling in Fairfield, Connecticut nearly thirty years ago. There, she has taught middle school and been very involved in community athletic programs, for over a decade as director of the town's womens' softball leagues. In 1977 she became assistant coach of the Fairfield High School's varsity field hockey and tennis teams, and is now the well-regarded head coach of the latter squad. Her stints as teacher and coach have served well as testament to her versatility as well as her mentoring skills and ability to shape young lives. There is no doubt that Coach Murphy lives on – for that we are all grateful.
Last year Linda won a local award for her home garden in recognition of the gorgeous arrangements and wide variety of plantings it encompassed. She has "perennials everywhere!" her mother exclaims: "in the summer months her house is recognizable just by the colored array of plants and blossoms."
It fits, somehow; for Linda Murphy has been devoted to bringing beauty from tough soil, in herself and in all those she has touched. With her induction this year, the Hall is proud to number itself among that latter group.