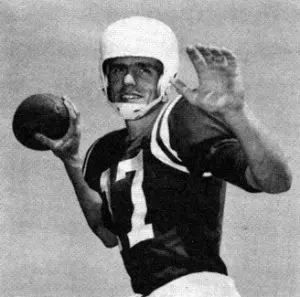 Bsktball, Bsball, Fball, Trach/F
Len Hill recently noted that "the adversity that life presents is not the problem. The key is how you choose to handle it." That statement gives one inkling about how Len played not just the game of football but the game of life. For the story of Len Hill is how he overcame adversity with the help of some caring people.
For at the age of thirteen, Len was left orphaned and alone. He lived in a boarding house in Watertown, trying to make ends meet, finally given a choice by the state to become a ward or enter an orphanage. Instead, he faked a birth certificate and tried to join the Navy. But just before he was due to leave for the service, WHS football coach Joe Zeno found out, and tipped off the Navy. As Len later admitted, "It was the best thing that ever happened to me."
A variety of people in the Watertown community stepped in to help. Charles Burke and Preston Hatch, who knew Len from Boy Scouting, had already been helping him get by when he was living by himself; now Hatch became Len's foster father. Len poured himself into community affairs; and they poured themselves back into him. He worked hard at scouting, and became an Eagle Scout. He was also intensely involved in St. Theresa's Church as an altar boy and parishioner. A variety of teachers and friends at Watertown High gave him support; and Len has a special memory of Coach Zeno, "whose table I ate at so many times I can't count them." Arthur Minasliiao, a park instructor and former WHS quarterback, also took len under his wing – and along the way introduced him to the art of playing QB.
Len's strength off the field was matched by his athletic successes. He was a basketball standout, helping the Watertown five to a Bay State tournament championship in 1954. And he was the fourth in the amazing succession of Hall of Fame quarterbacks coached by Zeno in the 1950s – preceded by Phil Stackpole, Jim Lopez, and "Babe" Simourian. Those were big shoes to fill; but Len filled them to overflowing. Already tempered as Simourian's back-up during the 1952 Class B championship drive, Len had a rifle arm combined with sharpshooting accuracy. Told he was a step slow, he had ran track and field the previous winter – and become the state's Class B low hurdles champion, setting a state record in the 180-yard event. One Boston paper speculated that "Hill. . . can pass and also run. He has plenty of poise. . . With a boy like Len around there is no telling where Watertown could go."
In the end the Raiders would go right back to the Class B state title. Kicking off the season with a 20-0 drubbing of Brockton, the "Zenomen" lost only to Class A Newton, then fought back to the championship. With steady target Bob LoPrete, Len became what one paper called "the best schoolboy passing combination we have seen since Lynn Classical's fabulous Harry Agganis and George Bullard." A Thanksgiving whipping of Belmont before 9000 fans iced the cake as Len "literally filled the air with deadly passes."
The season was over but Len was not; in a stellar performance in a charity All-Star bowl, he paced the Suburban League squad, proving "to be one of the best schoolboy passers ever to play in any post-season contest." College recruiters descended upon him after the game. And, going on to Boston University Len showed that their attention had been worthwhile. His leadership of the BU freshman squad "labeled him the logical choice in the Terriers' tradition of fine passers and as a Terrier star of the future."
This proved prophetic. By the 1957 season a national football yearbook had noted that BU's season rested on the shoulders of "the fabulous Lenny Hill." In the final game of 1957, for example, the B.U. squad committed, "Mass. Murder", rolling over UMass by the score of 66-6 as Hill's offense racked up nearly 500 yards. Len won the George V. Brown Memorial Award in 1958 as B.U.'s best senior player. He was also an Academic All-American and a Dean's List student – a driven, dedicated worker both on and off the field. After graduation, Len went on to receive a Masters' Degree in Education and to teach, first in New Jersey and then back in Massachusetts. He also coached football, and in 1965 was backfield coach for Waltham High's championship team. In 1967, he became vice principal at Medway High School.
The words that come to mind about Len are as consistent as his play; he had a quiet class, a dignity about him that was recognized and respected by all. Richard Mastrangelo, manager of the 1953 WEIS squad and new the President of the Watertown Town Council, recalls that "what was most noticeable about Len was his solid style of play – he wasn't flashy, but he always made the right move, found the right man, made the right decision. He did what he bad to do to lead his team." It's a story the Hall is glad to pass along to a new generation.