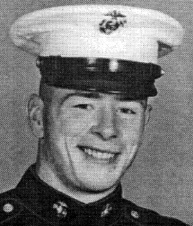 Dick Crowley, known as "Coach" around Watertown for his many years of work with the recreation Department and Kids in Common' program recalls Leo Harrington from their joint service as the perfect Marine." Leo might also be called the perfect coach; and the two are not unrelated.
Indeed, Leo's formula for success both in life and on the field is based on his Marine Corps training. Championship teams, he notes, must have strong discipline, accountability for individual actions and a strong ethos of mutual responsibility. They must be motivated and intelligent. They must have an almost joyful morale grounded in real camaraderie. In short, the whole must add up to more than the sum of its parts.
Doing that math has been the crux of Leo's long career at Watertown High School. As of the 1999 season, he has served as assistant coach to the football team for thirty-one years. Over that time, he's seen four Middlesex League championship squads come and go. More than the wins and losses, though – and there have been a lot of both – Leo has had the chance to teach and mentor literally hundreds of student-athletes. Over time, his style has shifted to emphasize that part of his role. His coaching style at the outset belied his congenial manner, bearing a close resemblance to Parris Island drill instruction. But an assistant coach is unique, building relationships and bonding with players in a way sometimes denied the head coach. So while the military discipline remains – one can't learn without order he stresses – Leo's individual style of coaching is now truer to himself: teaching, building confidence, rapport, bringing out the very best in the athletes he works with. It's been a winning formula, and Leo has executed it superbly.
Leo's own athletic prowess lies at the heart of that success. Born and raised in Arlington, Leo went to Matignon High School and played football all four years before graduating in 1960. Clint Knight, a Matignon classmate and now executive director of the Watertown-Belmont Chamber of Commerce, recalls Leo as "truly talented and motivated – the best athlete of his class."
He had some great examples to look to in that regard. Leo recalls a memorable game against Watertown High in the fall of 1958, when fellow Hall inductee Bob Norton was a sophomore. Three things stood out. First, Matignon garnered twenty-one first downs to Watertown's one- but lost, 14-8. Second, there were no fewer than five future National Football League players on the field that day. For WHS, Bob Cappadona and Dave 0'Brien suited up; for Matignon, the lineup included future Patriots Artie Graham and Don MacKinnon, along with Jack Concannon (later the Bears' number one draft pick).
Third, though, despite this array of talent, the best players on the field that day were Matignon QB Jackie Daley and star of the game Richie Green, who singlehandedly accounted for the Raiders' scoring by returning both a kickoff return and an intercepted pass for touchdowns.
After Matignon, Leo served in the Marine Corps reserves for six years, graduating from Boston State in 1969 with a degree in elementary education. He has worked in the Arlington Public Schools ever since, as an elementary physical education teacher and he has coached for even longer, returning to Matignon in 1964 to coach the freshman football team. In 1967 he became assistant varsity coach at Don Boscov in Boston; then, in 1969 he came to Watertown with new head coach John Barbati.
Watertown was coming off an 0-9 season. But over time the new staff rebuilt the program. Leo still remembers a small but crucial turning point: during a practice, Dom Lalli was blocking the pads held by Leo and, charged up, knocked Leo head over heels with a single vicious block. It lifted the practice and, Leo recalls, the team's whole attitude – suddenly Watertown's traditional toughness had returned. And four league championships (in 1973, 1976, 1977, and 1983) would follow. The Hall of Fame 1977 squad, led by Tom Tracy and Sparky Lyle, went 10-0, WHS's first undefeated and untied season since 1918. In 1978, Leo was honored as the Massachusetts Assistant Football Coach of the Year by the Massachusetts High School Football Association.
A lot of memories spring from those years. Leo recalls that seeing Hall of Famers Orazio Lattanzi and Mark Reopening pitted against each other in practice was worth the price of game admission in itself. He won't name favorites – for a coach of his tenure that would be like picking a favorite child – but does admit that in all his time at WHS he has seen no finer athlete than three-sport star Cathy Guden. For his players' part, they are happy to have learned from one of the best. Lalli, for example, credits Leo with not only guiding his skills, but inspiring his confidence for getting him, and the team, to believe that they could succeed.
Over the years, Leo has also taken great pride in watching his wife, two daughters, and son take part in athletics. Indeed, his wife Carolyn is a member of the Boston University and the Massachusetts High School Softball Coaches Halls of Fame in her own right. Cindy, Kelly, and Mike, after yeoman service as "water people" for the WHS football squad in their younger years, went on to participate in high school and collegiate sports. The two girls were also part of the Lexington Gaels, a Junior Olympic women's softball team coached by Leo and named after his late sister who succumbed to breast cancer The Gaels placed 17t" in the national tournament, the best finish ever for a team from New England.
"Our parents are our first coaches," Leo notes. "We always seem to get our best players when those first coaches did their job." He's absolutely right, of course. It helps, though, to have other coaches do their jobs, too, and for over three decades Leo has done just that and more. It is that longstanding, and outstanding, service that the Hall is proud to honor this year.