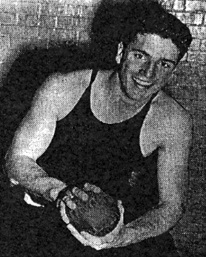 A man who knows Larry Cafarella very well perhaps put it best. "Larry had an imposing physical stature," notes Tommy Russo, a classmate and lifelong friend. "But he was the gentlest of giants." Indeed, in Larry the athlete and artist happily coexist.
One could, of course, fill a book with a listing of his athletic accomplishments. Larry played football and basketball for three years at Watertown High – Hall of Fame Coach Joe Zeno called him "a great defensive tackle" as in his senior season he led an underrated Raider eleven to an upset of powerhouse Brockton and a drubbing of archrival Belmont. He was the starting center on the 1949 state champion junior high basketball squad. Still, it was for his exploits under another legendary coach, Bob Gleason, that Larry will be best remembered. On the field, he followed in the large footsteps of such shot-putters as Ronnie Guitar, Gene Renzi, Dave Foley, and Nick DeNitto – and left some oversized shoes of his own behind him.
Consider this: as a shot-putter Larry was undefeated in dual meet competition. He was the Metropolitan League Shot Put Champion in 1952 and, in fact, set a new league record every single week that season. He capped that dream season by winning the Massachusetts state title in the shot both indoors and out, setting new state records at each event, 53′, 10.5″ outdoors and 52′, 10.5″ under the lights – keep in mind that only a handful of athletes in state history have hit the 50′ mark indoors, and that outdoors, as one Boston paper noted, he was "the first schoolboy shot-putter to clear 53 feet in a decade." At the New England championships, Larry took second place, and his season wasn't done yet: at the Indoor National Interscholastic Championship Meet at New York City's Madison Square Garden, he placed third in the country.
Not surprisingly, All-Everything Larry (he was named "most popular" in his class, as well!) was awarded the Hoyt Thurber Trophy as WHS' best athlete upon his graduation in 1952. After a stint in the service at Fort Benning (where he placed first in the Third Army hammer throw contest), he went on to Boston University, and his field performance would only grow more impressive. He was the Greater Boston intercollegiate shot put champion in 1957, 1958, and 1959; the Knights of Columbus Games champ in '57 and '58; the B.A.A. Games first place finisher from '57 through '59; and a participant in the national Penn relays in '58 and '59. Once again, Larry was undefeated in dual meet competition during his three varsity years, setting meet, field, and cage records at colleges across the eastern seaboard. BU won the New England Track Championship meets in 1957 and 1958, and Larry was New England champion in the shot – and second in the discus – both years. He set the Terrier record in '58 at just a quarter inch short of fifty-five feet, a record that stood well into the next decade.
After graduating from BU, Larry continued his involvement in track and field as a coach, at Tufts and then back on Commonwealth Ave. (where he coached the athlete who broke his shot record!) Still, as a BU press release once trumpeted, "despite his 6'3″, 220 pound build, Larry has the artist's touch – although few would believe it to see him toss the shot-put, discus, and hammer." Indeed, he did. Larry was not just a regular in WHS' weight room, but in its art room, as well, a calling he continued to pursue in his college years. Art has always been a part of his life, coming from within like all real talents, and something he had to express; fittingly, then, in the 1960s, he began a career as a teacher of art. He was in the Watertown school system – at the East and then at WHS – from 1961 to 1968, and then in Buena Park, California, until his retirement in 1992.
Larry is now a full-time, award-winning painter and sculptor. He exhibits and sells his work in galleries in California and Nevada; his paintings hang in private collections worldwide. Elaine Grey, president of the Watertown Art Association, no mean judge of skill and style, calls Larry's paintings "a breath of fresh air," expressed "in a moving and individualist style."
It seems, then, that talent will show, whether it be on the easel or the track. Larry is a gentle giant, perhaps – but in whatever field he has pursued, he has indeed been a giant.