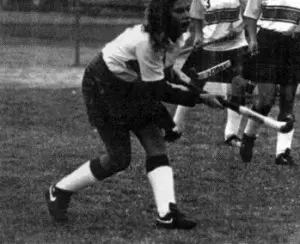 Maybe it's in the water up there on Lovell Road. Maybe it's the proximity to Victory Fieid. Maybe it's simply in the genes. Whatever the case, the Khozozian family has produced an impressive set of athletes. John, Mark, and Lauren Khozozian provide an appropriate standard of excellence for their sister Kelly, who this year joins the Watertown High School Athletic Hall of Fame.
Like many younger sisters, Kelly grew up competing against her talented brothers – "down Vic," much of the day with the whole Lovell Road gang, returning only for dinner and even then going back to the field until it was too dark to see the ball. After years of shagging baseballs she finally got to bat, and turned out to be a natural; Keily was one of the first female Little League all-stars in Watertown, becoming a Junior Babe Ruth all-star as well. She played whatever game was on – from recreation department tennis to soccer to basketball. She even took dancing lessons, though as she will cheerfully admit, this skill is not the basis of her induction.
At Watertown High School this versatility paid off. Kelly played softball, tennis, basketball, and field hockey, earning eleven varsity letters along the way and proving herself a woman for all sports seasons. She was a three-year all-star in tennis. She captained the hoops squad and there, too, was a three-time ail-scholastic. A solid forward with a nice shooters' touch, she was MVP of the league all-star game her junior year pouring in fourteen points in one half of play.
It is probably in field hockey, though, that she will be longest remembered. Kelly was a member of two Middlesex League championship teams, three Division II North champions, and two state champions, including the undefeated 1988 state champs also being inducted this year To say she was a "member " though, is to understate her contribution by some orders of magnitude. By her junior year as one local observer put it, Kelly was a "standout – she drives the ball like no one on the field. Her low attack with the stick moves [the ball] with authority." Coach Eileen Donahue puts the same point this way: Kelly could hit, and hit hard. "To this day, Kelly is one of the strongest hitters to go through the Watertown field hockey program." As sports writer David Cuddy observed in a game against Marblehead, "the first time Khozozian smacked one downfield, the crowd came alive. There were knowing chuckles from the Watertown followers, and gasps of disbelief from the shocked Marblehead fans."
Getting the ball out of the Watertown end so fast was a huge boon to the Raider defense, of course, reversing opponents' drives and setting up great scoring chances in the offensive end. This was crucial to the success of those teams. In 1988 the Raiders gave up just ten goals in eighteen regular season games en route to their state title.
But Kelly could play offense too. After her junior year Donahue moved her from fullback to halfback to take advantage of her shooting skills and command of the field. Kelly kept her defensive credentials well polished. But she also responded by becoming the team's second leading scorer with thirteen goals and eight assists (behind fellow Hall of Famer Cathy Guden, and just ahead of younger sister Lauren). Co-captain of a team that went 22-0-1, she was named to the Boston Globe's first-team all-scholastic squad, was a league all-star – indeed, runner up to Guden in league MVP voting – and a Herald all-star as well.
After graduating from Watertown High in 1989, Kelly went on to play Division I field hockey at Boston College, starting throughout her career and earning the coveted position of corner hitter in the fullback corps. For good measure, she also excelled in woman's rugby starting on the 1993 A-side championship squad.
Kelly remained in Watertown after graduation and has tried to give back to the community that nurtured her She has coached girls' basketball teams for the recreation department, taught tennis, and worked with Coach Donahue for four years as an assistant and junior varsity coach. Giving back comes easy, because Kelly remembers the importance of unstinting support, of mentoring. She is quick to mention the crucial role her parents played in this regard. They rarely missed a game – not an easy feat, with four active kids to track and cheer. And they were quick to grab a stopwatch or a stick and help with conditioning or extra practice. (Though, Kelly remembers, after doing this for four years her father still called the ball a "puck" and a "stroke" a penalty shot! That didn't stop him from cheering each one, though.) There, of course, is the true source of the Khozozian secret of success – it's in the family unit itself. It's in the work ethic, in the internalized high standards and the self-evident effort.
So if not a secret, the results were still spectacular. Coach Donahue gets the last word: "Kelly was (and is!) a true competitor. She was a strong leader who could make the tough defensive play as well as score the key goal in the game. She could do it all." And doing it all is what makes a Hall of Famer.