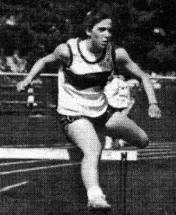 F.Hockey, Basketball, Track/Field
Kara Romanelli was always a team player From her days on the Browne School playground to those on the Brandeis University basketball court she knew that individual effort was most satisfying when the team thrived as a result, that gaudy numbers meant little if they didn't help the team succeed. She loved to play defense; to build up her teammates; to make the whole more than the sum of its parts.
As a result it was no accident that Kara was on some pretty good teams – and that her coaches always recognized her as a key part, indeed. Her father Lou, himself a Hall of Famer, recalls that she immersed herself in sports early on and proved to be a natural athlete. By the time she got to Watertown High School, Kara was ready to prove herself a star winding up with nine varsity letters across three sports.
On the basketball court, she played for Coach John Myers, who always gave her the toughest defensive assignments – a role she relished, and would keep throughout her playing days. On the track, she scored nearly a hundred points for the WHS harriers over her three years on the varsity, showing her work ethic and athleticism by taking part in a half dozen different events ranging from the long jump to the shot put to the low hurdles. As a sophomore she was already a champ at the last of these, blowing away the competition in an early season meet with Wakefield by a full seven seconds. By her senior season she was taking that success statewide, with a gold medal in the shot put relay (in tandem with Hall of Famer Zoey Zarkadas) and a bronze in the triple jump. She finished in the top six in another four all-star events, including the shot, hurdles, distance medley relay and the four by-one hundred relay Not surprisingly she was awarded the Massachusetts Track and Field Scholarship in 1987.
But it is perhaps in field hockey that Kara made her most lasting contribution to WHS athletic history. The story of the 1986 field hockey squad is often told, but no less memorable for that: how first-year coach Eileen Donahue took a team of hardworking overachievers all the way to the state championship. Kara, as a junior had been instrumental in leading the 1985 squad to postseason play scoring eight goals and adding five assists en route to an 11-3-5 record. Now, as a senior she was ready for more.
More came in surprising quantities. The team jumped out to a 4-0-2 start, then 7-0-4, then 12-1-5 (the only loss coming against Division I Melrose), powered by a clutch offense backed by tenacious defense. Kara's unselfish play was part of both; she contributed key goals and assists on the year (second on the team in the latter category with six) to the team's balanced offensive attack. And as one local reporter noted, was "all over the field" to lend a hand (or a stick) wherever needed. She had a great team with which to work – players like Hall of Famer Lisa Berardinelli, Cathy Guden, Lauren Hegarty Kelly Khozozian, Jeannie Minelli, Heather Stuckey to name just a few. She helped make all of them better.
Despite the stellar regular season Watertown was just the eighth seed entering tournament play. But the Raiders soon proved the odds makers wrong. In the first game, they beat Ipswich 1- 0, and then shut down top-seeded Amesbury by a 2-1 count. In the semifinals, Wilmington fell 1-0; in the North finals it was Manchester s turn to be shut out. "A relentless offensive attack and a defense that allowed only one shot on goal" were the keys to victory press reports commented, just as they had been all year Suddenly the state championship was within the Raiders' reach -and after a triple overtime game for the ages against Milton, it was within their grasp, too.
As the Watertown Sun's Jim Woodworth put it "team effort is an overused, trite expression, but [it's] one that fits the 1986 field hockey team better than any other" The defense, "led by Romanelli " he continued, was "a virtually unsolvable puzzle": it never gave up more than eight shots on goal in a game all year The spread-out, balanced offense made it impossible for opponents to shut it down. In short, it was Kara's kind of team.
Kara, always a stellar student went on to Brandeis University after graduating from WHS in 1987. The school had no field hockey program. But she continued to excel at basketball (at the same time current WHS coach Steve Harrington was starring for the men's team) and track. There she focused on the hurdles, long jump, and triple jump, bringing home a bronze medal from the University Athletic Association championships in St Louis in 1988.
As far as athletic competition went, then, Brandeis was just like home. But in other ways it was a culture shock, especially in terms of the affluence of its student body. Yet Kara knew she had something more important behind her; "other students had a car" she recalls "but I had a family." Indeed, one can't sum up Kara's career without mentioning the importance of her tight-knit family – her ultimate team. Her parents went to all her games without fail, supported her in all her endeavors, and provided a network of caring that continues today. Even now, though daunted by the Watertown housing prices that have forced so many recent graduates to leave the community, she lives just a few doors down from older sister Missy in Hooksett, New Hampshire. And a new generation is on its way: Kara and her husband Allan are proud parents to new son Reese, born just this month.
After stints as an administrator at Harvard and Lesley Colleges, Kara recently switched gears to become "Team Leader" of outdoor equipment giant Tmberland's customer service department. But it suits. It seems an apt job title, somehow for the ultimate team player.