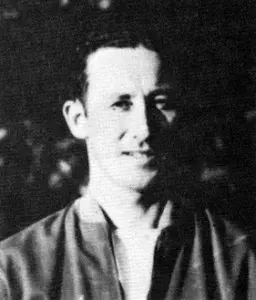 In the fall of 1940, the Boston Herald was pondering the future of WHS football. "A few years ago," its reporter noted, `it used to be a real chore to do a serious story on Watertown High, which was so far in the football doldrums that even the mildest compliment sounded hypocritical. Last year brought a real change, and this year it is a positive pleasure to dissect the Watertown squad."
It didn't hurt that the 1940 team fielded such luminaries as Bill Boyce and Vic Palladino. But a large part of that "real change" was the recent arrival of Coach Joe Murphy. Under his direction, the "Murphymen" climbed back not only to respectability but excellence. They won thirty-one games in the six seasons he coached, and beat Belmont four out of five games.
Of course, Joe had experience in beating Belmont. In 1926, he scored the winning touchdown in the Thanksgiving game after an interception and fifty-five yard return, handing Belmont its only loss of the season. He also played basketball and baseball at Watertown High and later, at Huntington Prep, was captain of the track team. At Bates College, he lettered in three sports: football, baseball, and hockey. He captained the latter sport for two years and won All-Maine honors for his play at center He was All-Maine in football as well; in 1932 he was the star of the game as Bates – "advertised as the only easy mark on the Eli schedule" – held powerhouse Yale to a stunning 0-0 tie.
After graduation, Joe coached at Bates for two years, then moved on to the high school in Franklin, New Hampshire, as teacher-coach for two more. The Franklin football team, which had been winless the year previous, lost just one game his first season. And he led the Franklin basketball squad, again with just one loss, to the state tourney.
Having warmed up, so to speak, Joe returned home to Watertown, where he coached and taught – with some interruption for Naval service – until 1953. During those years the football team returned to prominence, and the 1948 hockey team won the prized Bay State League championship. Six members of that team won All-star honors, and Joe was chosen coach of the league's All-Star team.
Hank Kasbarian and Art Shannon of the '48 squad spoke with one voice when they recalled that season and Joe's fatherly influence on the team. "He wasn't a chalkboard kind of coach," says Kasbarian. "He was a motivator – he got the best out of everyone." And Shannon adds: ` `He could get a great performance out of a player because he was so well liked, so deeply respected. You wanted him to be proud of you."
In 1953 Joe became principal of the Parker Marshall Spring School District. But Joe stayed in contact with his players – his friends – and followed their lives and careers with unfeigned interest.
For whether it was exhorting from the sidelines, or hosting the annual WHS Sports Night talent show (complete with tumbling clowns and the Joe Giglio Orchestra), or directing Watertown's March of Dimes charity drive, Joe was a man who believed in fostering community. He believed in family. He believed in one team, pulling together.
When Joe left coaching, he left behind a legion of dedicated high school athletes who were better players, and people, for having had his guidance. But he never forgot them. And they, for their part, would never want to forget him.