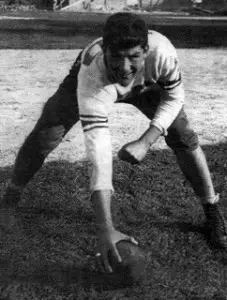 "My love of football," John Vlachos recalls, "began when I was twelve years old. Our football field was the banks of the Charles River by the Watertown Yacht Club – we were the 'River Rats.' After playing we'd cool off by jumping into the Charles for a swim."
Football wasn't played at the East Junior High School in the 1940s, so John played basketball and baseball under Coach Carl Clem. Clem must have seen something there that would carry over to the gridiron, for he recommended to Hall of Fame WHS coach Joe Murphy that John play football at the high school. From there a legend was born.
As a sophomore, John played center and linebacker. In those days, football players played both offense and defense, and without facemasks. Toughness was a must- but John had it in spades. And when Coach Murphy moved on, he was replaced by another Hall of Famer Joe Zeno, who had played professionally for the Washington Redskins. "Joe Zeno brought a whole new dimension to Watertown football," John remembers. "He was a strict disciplinarian who demanded excellence, both on the football field and in the classroom. He was like a second father to me and many of my teammates. The deep respect and admiration that our squad felt towards Coach Zeno inspired us to play our very best."
And their best was very good indeed. During his junior year the team went 8-1, losing (as a Class B team) only to Class A champions Arlington. Teammates included Hall of Famers Gene Renzi and Jim Lopez. As Lopez, co-captain with John in 1950, notes, "John was a great center linebacker and leader. He was always fun to be around, unless you were an opponent. As a linebacker he made my job at deep back easy running backs never got that far." John was starting center for the North/South All-Star Game (the showcase that would later become the memorial to Harry Agganis). He was all-scholastic and all-state, and his leadership was recognized as well in the All-Scholastic Award for Outstanding Athletic Ability and Sportsmanship he won from Boston station WCOP in 1951. He was named WHS' best athlete by its school paper and the WHS Athletic Association. All in all, it was a nice way to cap an outstanding high school career.
Not surprisingly John was heavily recruited by collegiate football powerhouses, including Southern Methodist. He opted instead to delay college and join the Marine Corps. After boot camp at Paris Island – he credits "the no-nonsense discipline I received from Coach Zeno" for helping him with that experience-John went to Camp Pendleton in California. From there, he quickly found himself in a landing craft, clutching an M-1 rifle, about to set foot in Korea. As a member of a Marine combat infantry company there, he was in many different engagements with North Korean and Chinese forces. "I vividly remember being dug in on a hill we dubbed Bunker Hill, with troops advancing on the positions, the night sky illuminated by flares and the sounds of bugles and drums coming closer " John says now before matter-of-factly noting the three Purple Hearts he received for combat wounds during that series of engagements.
John's war injuries prevented him from playing contact sports, thus ending his aspirations for a college football career. Instead, he married his high school sweetheart, Betty Knell -they've been married 47 years, and, John says, "I'm aiming to beat my parent's mark of 70 years!" After training in aeronautics and aircraft maintenance, John made the decision to take over his family's restaurant (in the family 75 years now) when his parents had health problems. After all, as many have noted, his family has been his life. He stayed there until he retired a few years ago.
Through all that time John's love of sports remained unabated. He was active in the Watertown Youth Hockey Program, and later a Director and Parent-President of the Watertown High School Hockey Club. During his tenure there he was in charge of all hockey teams traveling from Watertown to various cities, and instrumental in the first American-Canadian Hockey Exchange. His children Doreen, Leslie, John and Chris learned well the lessons their father had to teach about what it took to succeed in sports, and in life; indeed, Chris was inducted into the Hall of Fame himself in 1998. He – and the Hall, and Watertown – know that this year s honor is slightly more belated, but no less deserved.