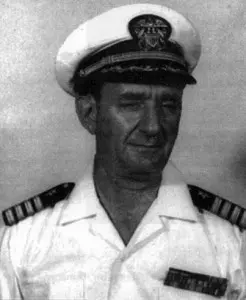 When you say "Captain Lavrakas" in East Watertown, you'd better be prepared for at least two distinguished gentlemen to turn around. After all, Lefteris "Lefty" Lavrakas followed older brother John into the Navy and, like him, retired as a battle-tested captain. "He was a great role model, he kept us in line," remembers Lefty. But this year, if you say "Hall of Famer Lavrakas," you'll also get two smiling responses. For in May, John follows his kid brother into Watertown High's Athletic Hall of Fame.
John was an outstanding halfback under WHS Coach Ed Ward, a teammate of Hall of Famer Robert Daughters. He was also a solid second baseman come springtime, helping lead the Raiders to a conference title in 1932. Upon graduating in 1933, he attended Massachusetts State College, what is now the University of Massachusetts at Amherst, planning to continue these pursuits, but suffered a shoulder injury that fall, prematurely ending his career on the gridiron. However, he continued to star in baseball, in Amherst and in a Boston summer league. And he picked up a new sport, ice hockey. He proved an apt pupil and a singular scoring threat, and was named an honorable mention All-American by his senior season.
John graduated from Mass. State in 1938 with a B.S. He was expecting to become a landscape architect. But in June 1941, anticipating the coming war, he joined the Navy and was commissioned as an Ensign. He was stationed at the University of California to study diesel engines until the fall of 1941, at which point he went out to sea. Along with another ship, John's U.S.S. Salt Lake City was headed back into port on December 7, that port was Pearl Harbor.
Obviously from then on there was little rest, and John was in the thick of it. His ship immediately went back out to hunt for submarines and to make hit and run attacks on the Japanese forces around the Marshall Islands and Wake Island. He escorted the U.S.S. Hornet en route to Tokyo for the famous Doolittle Raid in April 1942. That August he was with the Marines on their way to Guadalcanal. In October a nasty night battle with Japanese cruisers severely damaged his ship. Returning to action, he participated in the invasions of the Gilbert and Marshall Islands and the raids on Truck and Pelileu Islands; covered General MacArthur's invasion of All in all John earned eleven battle stars during the Pacific war. He stayed in the navy until after the Korean War ended in 1953, and stayed in the reserves until 1972. After Korea, he signed on with the Ford Motor Company, and worked in Michigan until 1982; after that, in what was supposed to be retirement, he worked personally for Henry Ford II as a consultant on various construction projects. Along the way he stayed active in youth sports, especially Little League baseball and hockey. Today he's a spry 89, still plays golf, and would want it to be known that he's had two holes-in-one, both achieved in his 80s.
As John has said, "athletics instill passion, confidence, and values in young people." We should all be grateful they did their work so well in his case. The Hall is honored to welcome him to its ranks.