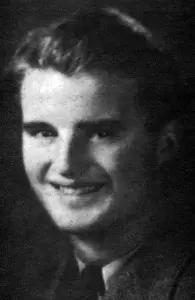 Baseball, Basketball, Football
It seems that everyone who grew up in East Watertown in the second half of the twentieth century knew John Degnan. He was an institution at the Coolidge School for nearly thirty-five years, starting there as a sixth-grade teacher in 1950 and leaving as its principal in 1984 only when the school itself closed. Such was the respect in which he was held that even today those kids call him "Mr. Degnan." The Hall is simply proud to call him an inductee.
John Degnan will join the Hall of Fame this year as both an athlete and a fixture in the lives of Watertown youth. The son of immigrant parents from Galway and County Mayo, John looked up to such local stars as Red Daughters and Bill Kearns, hoping to play like them. It must be said he did a creditable imitation.
After all, at Watertown High School, John was a three-sport athlete himself. Co-captain of the baseball nine, John was a speedy centerfielder and team leader. Co-captain of the basketball team with George Bardizian a son of immigrants himself, the two combined to epitomize mid-century Watertown. John was the consummate team player, a Bob Cousy-type guard and viewed as "just about as good a ball handler as we've seen in these parts in recent years." Another scribe called him "the spark of the team who can pop 'em in when occasion demands on offense" and a "clever defensive player." John also played football his senior year — weighing in at all of 135 pounds, he guided the 1942 team to a Thanksgiving shutout of Belmont when the starting quarterback was hurt.
John graduated in 1943 and joined the Navy, training as a medic and serving in the European theater in World War II; he was part of a backup medical unit ready for the Normandy invasion, a unit fortunately not needed on D-Day. After the war ended, he went to Wilbraham Academy (where he played basketball and baseball) and thence to U Mass and Boston University. From there, in 1950, he started his long career in the Watertown school department. He was a teacher and also a coach; as he notes, "I finished my athletic career coaching 4th, 5th, and 6th graders in all sports with the Watertown recreation program. Fifteen happy years for me!" and for the kids involved, too. Meanwhile he became principal at the Coolidge School in 1961, a position he would hold for more than two decades. When the Coolidge closed, John moved to the Cunniff School until his retirement in 1991.
Literally thousands of students benefited from John's leadership and mentoring across forty years of teaching. The living example of his character and work ethic have inspired generations of students and enriched their lives. But one of his proudest honors is one that continues to give back: the college scholarship established in his name by the Coolidge and Cunniff Parent-Teacher Associations to provide financial assistance to needy WHS students. Hall of Famer Ben Akillian sums it up nicely: "John has devoted a lifetime of payback to his beloved town." It's time, then, for that town to give back. And on that front, the Hall is happy to lead the way, as John Degnan has led on so many.