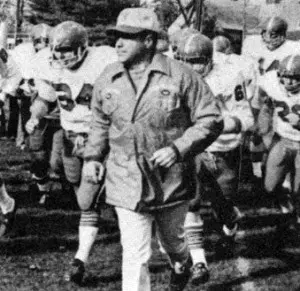 Bob Kaprielian, the chair of the Hall's Board of Directors, remembers a 1951 visit to St. Michael's College in Winooski, Vermont, to watch a friend play football. Etched in his mind is a memory of a player running in from midfield, leaping joyfully in the air, punching the sky, shouting, "We got the ball!"
St. Michael's captain John Barbati had just won the coin toss.
Barbati was the driving force, the leader and the cheerleader, for that squad and the energy he brought to quarterbacking St. Michael's drove the same enthusiasm he brought to the Watertown High School football program when he arrived in 1969. He brought about the resurgence of a program that was in a down cycle, and shepherded it through great years and bad until his retirement in 1992.
The Barbati resume would be impressive if only for his tenure in a field rarely noted for stability. But what sets it apart are the results he achieved on the field and the character he showed off the field. Under his tutelage and care, his players learned sportsmanship and grace – how to win, and how to lose.
Of course learning how to win is infinitely more pleasant, and there was much opportunity for that during the Barbati years. John ran up a 131-89-2 record for a lifetime winning percentage of .595, capturing four Middlesex League titles (in 1973, 1976, 1977, and 1983) and a berth in the Massachusetts High School Football Coaches' Association Hall of Fame.
To list the many great players Coach Barbati molded would be to fill the program, and miss some names to boot. As Watertown State Senator Warren Tolman (a member of the 1977 team) puts it, ` `He was a terrific coach on the field – but I remember him most fondly for what he brought to us off the field. He would step in to help and give a kid direction to college, and then follow up with that college and with its coaches. He brought us to his house to watch game films and eat pizza. He made us feel like part of his family.
"We had a scrimmage my senior year (1977-78] against Don Bosco. We knew we had a terrific team, but we lost – and we were all shocked. But how Coach Barbati handled it was phenomenal; he talked to each senior individually, calmly, and one at a time, he charged us up. We knew after that we couldn't lose."
And of course, the 1977 Raiders truly could not lose. That squad, boasting Hall of Famers Tom Tracy and Steve "Sparky" Lyle, ran up a 10-0 record, the best ever in Watertown history. After the season, John captured not only the Boston Globe's "Coach of the Year" honor but that awarded by the National High School Football Coaches Association.
Chuck Laurie, a Hall member and star quarterback who graduated from WHS in 1975, remembers that "we all felt that when we stepped on the field, we should win. His determination and spirit were infectious. It didn't matter how good an athlete you were – he was always there for you and never forgot you, always working to help you pursue your goals."
Chuck, along with incoming inductee Manny Bougoulas, has a special memory of the 1974 Belmont game. That Thanksgiving, the pair led the Raiders to a 28-14 upset over a heavily favored Marauder squad – one of Coach Barbati's greatest wins.
Indicative of Barbati, though, is that one of the first Belmont games he remembers is his last, in 1992. It was his final game of his coaching career, and the Raiders were 0-9 coming in. But the team rebounded from a 3-0-halftime deficit with an 8-3 win to close out their coach's career on an appropriate, winning, note. ` `That is the way he should go," co-captain Angelo Kapetanakos said, and he was right. "These kids . . . I just can't say enough about their attitudes and commitment," said Barbati. "If they hadn't won today they'd still be winners in my book." He was right, too.
Still, a lot of their attitude, one suspects, had to do with Barbati himself. He recalls a football clinic in the 1950s taught by legendary Alabama coach Bear Bryant. Coaching is a tough profession, Bryant said: ` `if you feel you can live without it, don't get into it." Barbati could never live without it – the love was that deep. It wasn't the cheers that drove him. Rather, he was consumed by the chance to make an impact on the kids he cared for, treasuring the small success stories etched in individual lives, the lessons taught in the classroom and the locker room. Coach Barbati never let his players quit, and he asked no less from himself.
"I guess we'd all like to believe we made a little difference," he told the Beralcl in 1992. That he surely did. His was a tremendous career, from first hurrah to last; and it is for all the differences he made that the Hall is pleased to bring John Barbati back to Watertown one more time.